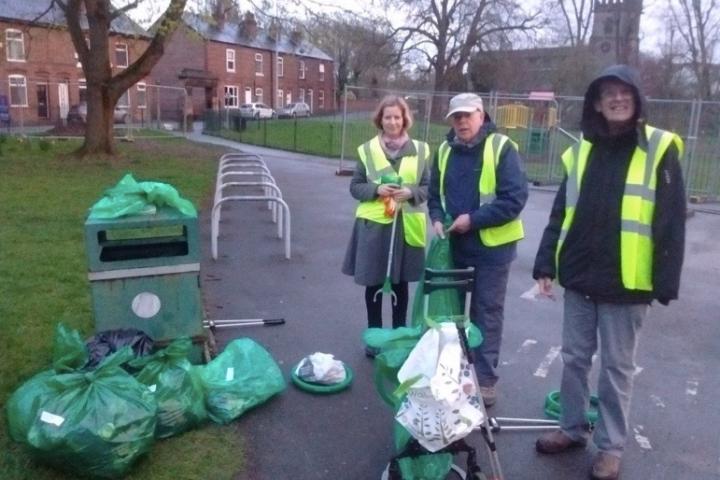 A team of volunteers took to the streets of Wilmslow last week in an impressive effort to spring clean the town.
Wilmslow Clean Team organised four litter picks during Wilmslow Spring Clean Week and collected at least 61 bags of litter along with some recyclables which had been dumped.
The campaign kicked off on Monday, 27th March, when ten volunteers met at Wilmslow Garden Centre and spent two hours focussing on Manchester Road, from the Blue Bell crossroads north to the boundary with Handforth, Dean Drive, Courtney Green, the Arthur Boon park, Stanneylands Road and the surrounding area.
A spokesperson for the group said "We have never covered some of this area before so there was a lot of very old, deep-seated litter, especially in the woodland around the park, and down the cul de sac road past the building used by the Army and Air Force cadets, towards the railway viaduct. We heard from a passer-by that someone is regularly fly-tipping drink cans down there."
They collected 24 bags of rubbish and three bags for recycling in their first pick of the week.
The following day one of the volunteers, Sheila, collected three bags and a wheel trim whilst clearing up Alderley Road and the surrounding streets between the bypass roundabout and the Kings Arms.
Eight volunteers met at the Parish Hall on the evening of Wednesday 29th March and collected 10 bags and some recyclables. They focussed on the surrounding area including The Carrs, Cliff Road, Styal Road and Bollin Hill.
On Friday, 31st March, seven volunteers gathered at the Unicorn Pub on Adlington Road. They proceeded to collect 12 bags of litter from the Dean Row area.
A spokesperson for the group added "Again, this was a new location for us. We covered Lees Road (on both sides down as far as the Wilmslow boundary), Adlington Road (down as far as Browns Lane and then into Cross Lane), Chapel Road and Woodford Road (down as far as the Wilmslow boundary). It was great to welcome two local Dean Row councillors, Ian Furguson and Frank McCarthy."
The Spring Clean Week culminated on Sunday, 2nd April, when five volunteers met at Sainsbury's and collected 11 bags altogether.