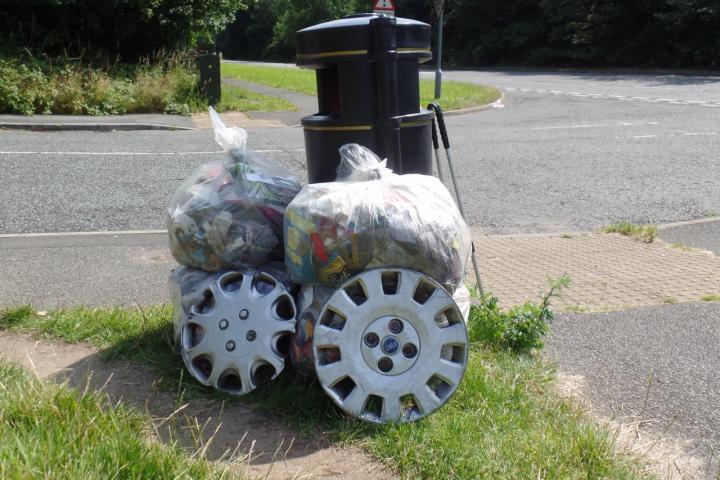 Plans are well underway for the Wilmslow Spring Clean Week which is now in its third year and will run from Monday 29th February to Sunday 6th March, to coincide with the nation's 'Clean for the Queen' campaign to mark the monarch's 90th birthday.
Having originally been set up by Wilmslow Town Council, for the last two years a week of events have been organised by Wilmslow Clean Team with the support of the Town Council.
The team of about 30 volunteers have put together a series of community litter picking events throughout the week which will take place in different parts of the town and at different times of the day.
These include 5 events which are open to the public:
Monday 29th February in the afternoon at Lindow Common and Carnival Fields.
Wednesday 2nd March in the morning at Bank Square, leisure centre and the station.
Friday 4th March in the afternoon on the Lacey Green Estate.
Saturday 5th March in the morning at Summerfields and Colshaw Drive.
Sunday 6th March in the afternoon in the town centre, leisure centre and station.
Additionally, Lindow Explorers are holding their own litter pick event on Wednesday 2nd March focusing on town centre car parks.
The Council's Cabinet agreed to promote a campaign to spruce up the Borough as part of the nationwide clean up drive to mark the Queen's 90th birthday.
The campaign will begin in March to promote self-sustainability and civic pride, calling on volunteer groups, supported by the Council, to organise litter picking and smarten up their towns, villages and neighbourhoods.
The Council will set up a fund of £7,000 to provide litter picking packs, including disposable gloves, litter-picker tools and high visibility vests.
It is anticipated that volunteer groups will continue to use the packs and maintain clean-up operations up to and beyond the Queen's official birthday in June when UK-wide celebrations are planned.
Three days in early March (4th to 6th), have been selected for the launch of the campaign.
The Council's wholly owned environmental waste and recycling company Ansa will provide free bags for litter and collect them when full.
Councillor David Brown, Deputy Leader of Cheshire East Council, said: "We want to encourage existing voluntary clean-up groups to take part and inspire other neighbours and communities to do the same.
"We hope those taking part for the first time will continue to be active in this way and become potential community champions and leaders.
"We would like to see everyone doing their best to make Cheshire East litter free and I hope businesses, take-away food outlets and other organisations will play their part."
Councillor Les Gilbert, Cabinet member in charge of communities, said: "We are delighted to be supporting Clean for The Queen and we would encourage as many groups, individuals and organisations as possible to take part.
"Litter is an anti-social problem and councils across the UK spend in excess of £1billion clearing up every year.
"By taking part in Clean for The Queen, communities will not only be doing their bit to mark her 90th birthday, they will also give themselves a clean space in which to live, work and play and to be proud of.
"We want to help organisations and residents to get involved and would urge people to apply as soon as possible, to ensure they have their own kit together with their resource pack to help them with any questions around health and safety, good practice and first aid."
Clean for the Queen is a national campaign and is the first anti-litter campaign since 1953. More information about Clean for The Queen can be found on the Cheshire East Council website.
Wilmslow Clean Team would welcome volunteers to help in their attempt to clean up Wilmslow. If you are able to join any of the events and require further information visit the Clean Team website, email or call 07861 468 591.