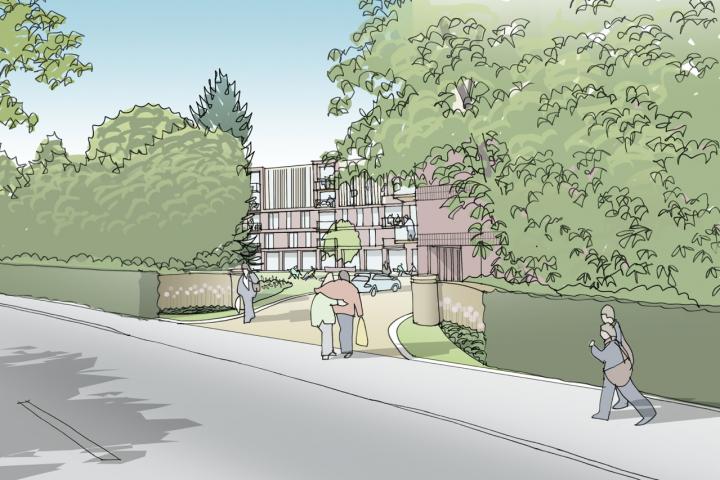 A decision regarding plans to demolish former council offices off Chapel Lane and replace them with retirement apartments has been delayed.
The Northern Planning Committee met on Wednesday, 29th April, to discuss the proposal from PegasusLife to knock down the two existing buildings on the Remenham site and build 57 assisted living apartments. However, the decision was deferred to allow for members to consider the number of parking spaces being made available.
Cllr Rod Menlove explained "I attended the meeting and spoke in favour of the application. The members were broadly supportive but had concerns about on-site parking, there being 59 spaces for 57 apartments. Pegasus offered their experience from their other developments that within a short time only about two thirds of residents kept their cars. I am hoping that the application returns to committee shortly since this is a development of value to Wilmslow."
Revised plans were submitted which reduce the entire building to four storeys and reduces the height from 19.7 metres to 16.3 metres. The effect of this reduction was to reduce the number of apartments from 65 to 57, and reduce the extent of communal facilities. The communal facilities now include a dining area, swimming pool, sauna, gym, and studio.
It is proposed that a S106 legal agreement requires Pegasus to make a payment of £81,750 for "off-site provision of public open space for improvements, additions and enhancement of existing public open space facilities at Gravel Lane, Lindow Common, Carnival Fields, The Carrs and allotments within Wilmslow".
The planning application can be viewed on the Cheshire East Council website by searching for planning reference 14/5471M.
The application (reference 15/0283M) to build a 35-bedroom hotel on Altrincham Road, Styal was also on the agenda for last week's Northern Planning Committee meeting. It was recommended for refusal but the planning application was withdrawn.
Tags: