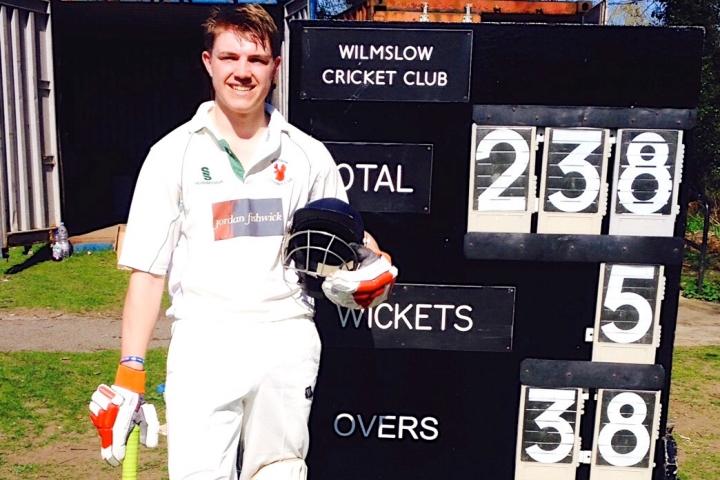 Wilmslow CC 240 for 5 beat Winsford CC 54 ao
A very impressive and promising debut in the Cheshire League for the Squirrels, made the more memorable by two remarkable performances.
The Rectory Field as ever was resplendent, the wicket a little green but the outfield was like lightning. Elliot Rowe with a near run a ball 100 not out and then elder brother Toby with 9 for 22 used the conditions perfectly.
With Rob Herriott 43 and Chris Teskey 25, Rowe jnr took every single available and a boundary from every other. Scoring at over 6 an over, the innings was declared on 240 for 5 after just 38 overs.
In reply, for the first 6 overs in fact, Winsford started with some intent. It was then however, that Rowe the elder found the secret of swing. Seven of his victims were bowled and another fell LBW, the line and length was impeccable and he was unplayable.
The second XI found runs more difficult, posting an under par 132 all out at Winsford. Lloyd Sykes with a classy 25, and Mike Harding with 20, top scored. In reply the home team were 60 after just 8 overs and looking for an early finish.
The fightback began with Pallav Kent having the opener caught at point by Naveed. From this point, wickets fell regularly for few runs as Kent and then Oli Pickup bowled fast and straight for 3 wickets apiece. The coup de grace was supplied by veteran Harding with 3 for 6 off just 15 balls.
Photo: Elliot Rowe after scoring his first century for the first team.
Match report by Mike Harding.
Tags: