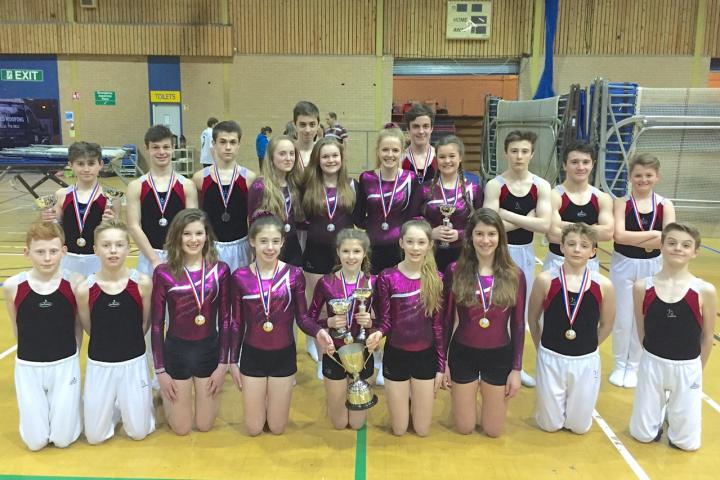 It has been another hugely successful year for Wilmslow High School's Trampolining team. The climax of the season, the National Schools' Finals were held at Cocks Moors Woods Leisure Centre on Saturday March 13th, with twenty one students taking part in team and individual categories.
This year saw the best ever results for the girls' teams as the Under 14 Girls Novice team came in first place to claim their first ever national title. The Under 19 Girls Novice Team were unlucky not to do the same, missing out by just 0.2 of a mark to claim second place.
Following on from last year's success the Under 14 Boys Intermediate Team came in first place, winning by a massive 5.0 clear points. The Under 19 Boys Novice Team came in second place, with the Under 14 Boys Novice Team battling hard to claim 5th.
In the individual categories, Isobel Southerton and Conor Smith were both crowned national champions in the Under 14 Girls Novice and Under 14 Boys Intermediate competitions. Elise Potter finished in 2nd place in the Under 19 Novice competition. Brendan Smith was unlucky to fall in the Under 19 Elite Boys category and missed out on a place on the podium.
Under 14 Girls Novice – Bella Southerton, Esme Plant, Shauna Greaves, Jacinta Kynaston
Under 14 Boys Novice – George Holt, Oliver Weir, Sam Falk, James Jones
Under 14 Boys Intermediate – Conor Smith, Jack Colledge, Ethan Ford, Ben Fazelynia
Under 19 Boys Novice – Ed Storer, Max Southerton, Paddy Draper, Sam Short
Under 19 Girls Novice – Elise Potter, Alice Du Fresne, Phoebe Potter, Elise Bale
Individual Competitors - Brendan Smith, Isobel Southerton, Conor Smith, Elise Potter
Coach Hilary Pemberton was rightly proud of all the students and recognised the effort that they put in throughout the year. She also extended her thanks to her team of assistant coaches and parent helpers. A special mention must also go to the student helpers and travelling reserves, Vicki Cragg, Maisie Allison, Katie Mayoh, Georgia Long, Molly Andrews, Izzie Boxer and Tom Holder.
Guest post by Huw Williams.
Tags: