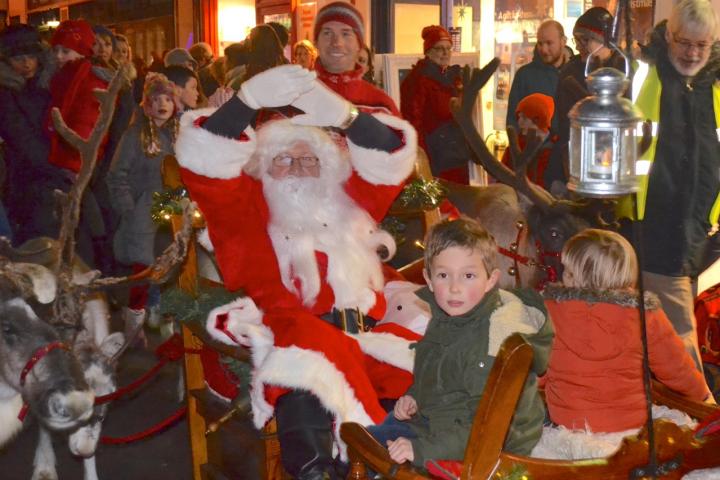 Wilmslow Town Council (WTC) has confirmed that the reindeers have been booked for this year's Christmas lights switch on, which will follow a similar format to last year's successful event.
In addition to the reindeer parade WTC is working on the programme of events for the evening of Thursday 28th November, having approved a budget of £10,000 for the light switch on event in June.
Speaking at this month's Town Council meeting, Clerk Matthew Jackson said "We've already been approached by those who participated in the parade last year and they are keen to do so this year. We had great support from Alderley & Wilmslow Musical Theatre Company who will dress up in costume and also from Styal Brass Group. We may decide to add to the parade but certainly they have expressed a desire to participate again."
Wilmslow Town Council is also talking with a couple of adult drama/musical groups, Wilmslow High School who performed last year, and one of the primary schools about entertaining the crowds at this year's switch on.
Matthew Jackson added "We are also, as we did last year, in communication with Stockport Plaza (where Dick Whittington is being performed this year) to try and get the characters from their pantomime. Wilmslow is a good place for them in terms of customers and it certainly added some colour and interest to last year's event."
Wilmslow Town Council has also met with Blachere, the company which has provided the Christmas lights, about lighting up some more trees on Alderley Road, having agreed a budget of £20,000 to purchase more Christmas lights for additional trees in June 2013.
Cllr Ruth McNulty added "We are going to have two Christmas trees in Wilmslow. One is going to be in Banks Square, where a Christmas tree has been every year since the year dot, and the other Christmas tree is going to go outside the library in the fenced area where the caravan was."