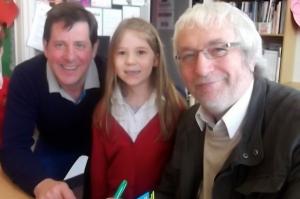 Pupils at Dean Oaks Primary were treated to a guest visit from two authors during the final week of the Spring Term.
Comedy writers Steve Barlow and Steve Skidmore, together The 2 Steves, are a popular performing double act for young people.
They met over twenty years ago when they were both teaching in Nottingham and since then they have written over 150 books together, TV scripts and edited many plays.
Prioir to the visit, all the children at the school were set a reading challenge and one child from each year group was chosen to eat their lunch with The 2 Steves as a reward for their hard work.
Class teacher Mrs White said "It was a great way to really encourage additional reading with the children in a fun way and all the winners had a great time over lunch. It was very exciting for the children to meet them, they will treasure these memories."
Winners also received a free book from the authors, which they will treasure.
Tags: