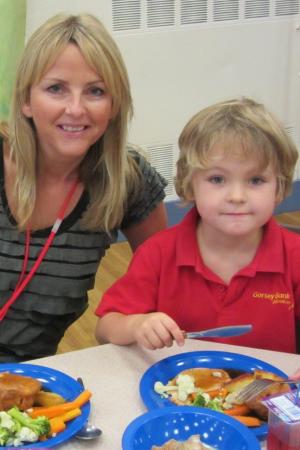 Parents were invited into a Wilmslow school to enjoy an organic, locally-sourced roast dinner with pupils and school staff.
Gorsey Bank Primary School hosted a Food for Life Partnership Roast Dinner Day to celebrate the work catering staff are doing to transform their food culture through cooking, growing and visiting farms, and serving healthy school meals.
All schools throughout England were invited to take part in the Food for Life Partnership Roast Dinner Day and this year over 6850 schools and 28 caterers participated, serving more than one million roast dinners on the same day.
Gorsey Bank's catering team School Food Company served 320 roast dinners on the day.
Jeanette Orrey, School Meals Policy Advisor and former school cook who inspired Jamie Oliver's school dinner campaign, said: "The Food for Life Partnership Roast Dinner Day is all about celebrating the fantastic catering staff, who are serving freshly prepared food for our children every day, as well as celebrating how far we've come in improving school meals across the country.
"It's about engaging parents and local communities in creating a better food culture for all. It's about highlighting the importance of good, healthy school dinners and educating children about where their food comes from through growing, cooking and farm visits."
Alison McGovern, School Cook at Gorsey Bank Primary School said: "Our team cater to a very high standard here at Gorsey Bank and we are very proud of what we do.
"We enjoyed the event very much and it was great to be able to use courgettes grown by the children in the school allotment in our cheesy courgette sausage ... so thank you to the children for supplying those straight from the garden today!"