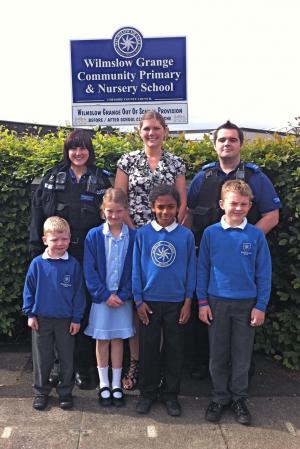 Wilmslow Grange Community Primary School are launching a walking bus to reduce the number of cars using and parking on Kingston Road and Ullswater Road during the morning drop off.
The walking bus will launch on Monday, 20th June, providing at least two routes covering north and south Handforth to maximise the number of children walking to school in the morning.
Headteacher, Joanne Ashcroft said "Here at Wilmslow Grange, we are all really excitedly awaiting the launch of our 'walking bus', and our 'park and walk' scheme.
"I feel that it is very important for us to improve the safety of the roads surrounding the school, and we must reduce the number of cars parked outside school and the volume of traffic on the roads in order to do this. Also, I would like to encourage more pupils and their parents and carers to walk to school, to give them a healthy start to the day, with a bit of light exercise in the fresh air.
"The walking bus will have a really positive impact upon on the safety and health of our pupils. It will rely on the kindness of parents, carers and other relatives to run it, as we need a 'driver', 'conducter', and some ofther volunteers on each 'bus'. Volunteers will not need to walk with the bus every day - we will be grateful for any help, on any days!"
The walking bus is being launched in conjunction with the Kingston Road Action Group (KRAG), consisting of Mrs Ashcroft, concerned parents and two local PCSOs; Gareth Harding and Rebecca Woolley.
Their aim is to increase the safety of Kingston Road for all users and they are in the process of requesting additional safety measures from Cheshire East Council. These include the provision of a controlled crossing point, an increase in warning signs regarding the presence of a school and an extension of the no parking zig zag lines outside the school gates.
The walking bus and KRAG have the support of the recently elected Handforth Ratepayers Association councillors, Denis Mahon and Barry Burkhill as well as Cynthia Samson, one of the new Handforth parish councillors.
The intention is to have a rota system in place so volunteers are not required every day and can choose which days are most suitable for them. If you are interested in the walking bus additional information will be provided through the school in the coming weeks or you can contact them on 01625 526566.
Tags: