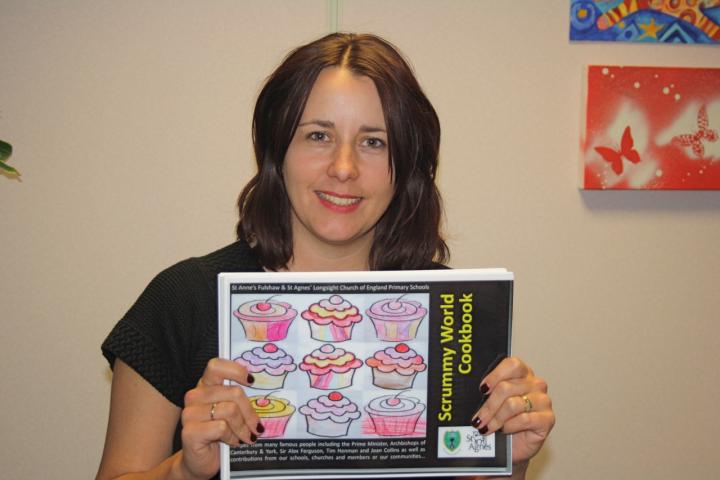 Nicola Cathery, 39, a Religious Studies teacher at Abbey College Manchester has assembled a whole host of 'A List' celebrities as contributors for a cookbook to develop cultural links between two very different local schools - St Agnes Primary School in Longsight and St Anne's Fulshaw Primary in Wilmslow where her two children attend.
Through hard work and perseverance Wilmslow resident Nicola managed to get top names to divulge their favourite recipes for the Scrummy World Cookbook, including Joan Collins (Spaghetti Bolognese), PM David Cameron (spicy sausage pasta), Ricky Tomlinson (Scouse), Ken Dodd (Knotty Ash Casserole) and acclaimed chef Rick Stein (Steamed Mussels with Tomato and Tarragon).
Local celebrities Sir Alex Ferguson (Scotch Broth) and Roberto Mancini (Raspberry Crostata) also contributed recipes as did the Chancellor of the Exchequer. Tatton MP George Osborne's contribution was his favourite creation; George's Butterflied Leg of Lamb on the BBQ.
Speaking about her inspiration, Nicola from Birch Avenue said: "I wanted to do something to link the two communities of Longsight and Wilmslow, and the different cultures represented by the two schools. I also wanted to produce a cookbook full of recipes for food that people actually eat, especially those that have been passed down through families that remind us of the people and places we love.
"Any monies to come from the sale of the book will be a bonus, and we expect to raise over £1000 to be split evenly between the two schools."
When asked about whether she has a background in cookery, Nicola explained: "I am not formally trained but enjoy cooking especially baking and my grandad used to own a bakers and confectioners shop in Nelson in Lancashire. I also like to pick up recipes from different countries when I visit, I think the food that people eat can be a fascinating insight into their culture."
Budding chef, Jennifer Thompson, 17, from Abbey College was also given her chance to shine, as Scrummy World Cookbook showcases her 'Jamaican Upside Down' - a cake with caramelised Rum and Banana, with a ginger and chocolate sponge. The opportunity for Jennifer came when Nicola spotted Jennifer's talent and asked her to submit a recipe for her new venture.
Scrummy World Cookbook will see its official launch in Waterstones Deansgate and the Wilmslow branch this September.