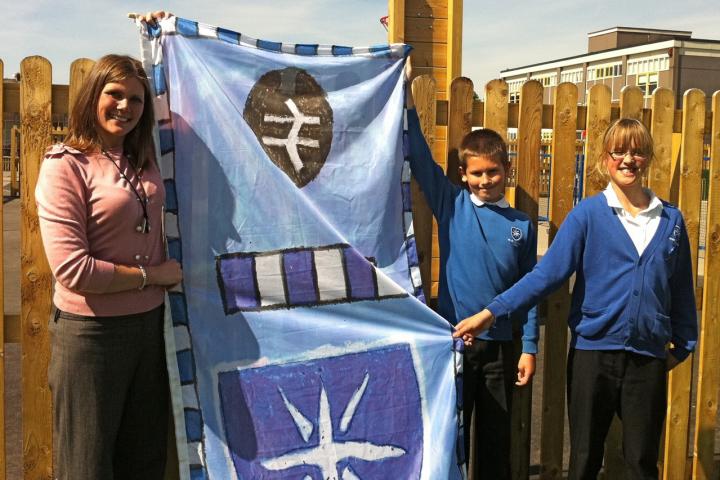 The Friends of Handforth Station have teamed up with Wilmslow Grange School to create a new flag to represent the village.
The Friends group approached the school with a view to designing a flag to fly on one of three flagpoles at the station, complementing a flag created by Rainbow Pre-School Nursery last year.
The finished design incorporates railway imagery, with the Honford Star (symbol of Handforth and the School) and Wilmslow Grange School's blue.
Joanne Ashcroft, Headteacher at Wilmslow Grange Primary and Nursery School said: "We felt privileged and proud to be asked to design a flag for Handforth Station. Children from all classes, in sessions led by members of the school council, suggested ideas for what could be included on the flag, to represent Handforth, the station, and our school.
"Then a small committee created the final design, with two pupils completing the final artwork. We love the finished product, and can't wait to see our flag flying high at the station."
Mike Bishop, Chairman of Friends of Handforth Station said: "The Friends are always keen to develop ties between the local community and Handforth Station. The designs submitted by pupils from Wilmslow Grange were fantastic and we have some on display in the booking office. We are delighted with the final design which symbolises the school, village and station brilliantly."
The Friends of Handforth Station group was formed in 1996 to advocate improvements at the station. Anyone interested in becoming involved with the Friends group may contact Mike via 01625 524123 or visit the Handforth Station website.