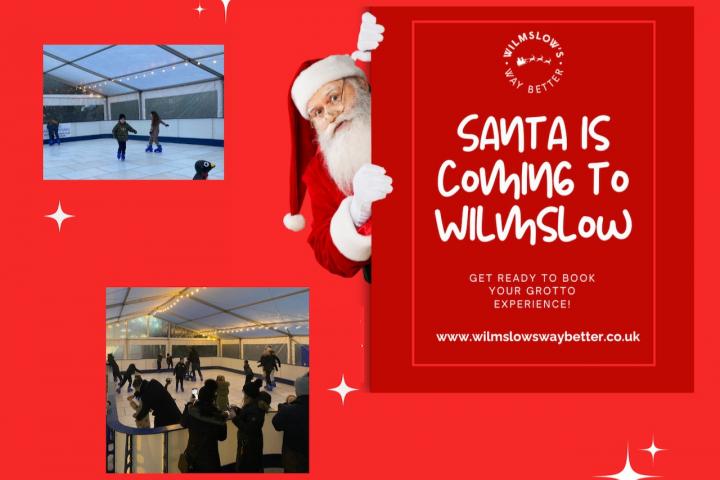 Promotional Feature
This festive season Wilmslow Business Improvement District brings you a 'Way Better' Winter Wonderland in Wilmslow Town Centre.
The weekend of 8th – 10th of December will see the artificial ice rink return to Bank Square.
Following last year's event, they have been working throughout the year to bring you a 'WAY BETTER' Christmas experience including Santa's Grotto, selfie props, games, singing, festive food and drink & fairground rides!!!
With the bright lights, gifts galore and jolly presence of Father Christmas, Santa's grottos are a seasonal favourite for families. But not all children are able to enjoy them. For thousands of children in Britain diagnosed with autism, the trip to see Santa Claus can be a frightening mix of huge crowds and loud noises.
At Wilmslow's Way Better they are committed to delivering festive experiences that all children are able to join in without feeling distressed. As part of their Winter Wonderland Weekend, they have introduced special SEND friendly sessions across the weekend at both the grotto and the ice rink.
Instead of the huge queues, you can enjoy Santa SEND sessions where there are no flashing lights, no rush, no pressure time slots, Santa and his elves are trained on delivering the very best autism experiences and the loud music has been replaced with an elf quiet sensory zone where children can relax. there will even be BSL trained sign language elves on Sunday 10th December.
With the release of the new 'Wonka' film on Friday 8th December which will be shown at The Rex with a fun packed premier that night the theme for the weekend is 'Wonkaland' and giant gingerbread and candy cane props and golden tickets will be placed throughout the town – can you find them all?
The ice rink will open on Friday evening with the rest of the activities across the Saturday and Sunday. Road closures will be in place along Green Lane, Grove Street and Hawthorn
Lane across the weekend.
Friday 8th December Ice Rink open 3.45pm - 8pm
Saturday 9th & Sunday 10th December Ice Rink 11am - 6pm Grotto & market 11am - 4pm
Tickets for the ice rink & grotto can now be booked now via their website https://wilmslowswaybetter.co.uk/christmas/