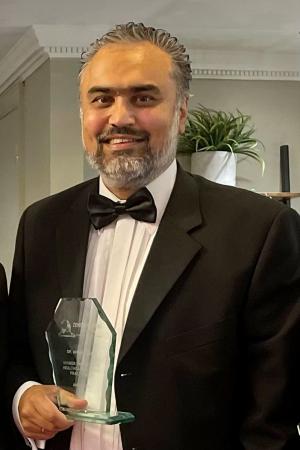 Wilmslow Health Centre's Dr Amar Ahmed recently collected a prestigious international award for Innovation in Healthcare.
The 2023 Global Health Awards took place at a black-tie ceremony in London on Saturday, 7th October, to acknowledge and celebrate colleagues for their dedication, groundbreaking work, and commitment to upholding excellence in healthcare globally.
The category awards were judged by a panel of experienced and highly skilled Healthcare Professionals in various specialties.
Dr Amar Ahmed received the award for innovation in health, for his many contributions to local and national primary care; the latest being the innovative triage system he has developed so patients receive the right care they need at the right time when they contact their GP.
This system has since been adopted by the BMA in their toolkit for practices and is being used by various practices around the country.
Dr Amar Ahmed said "I'm honoured to be here and humbled, but behind me is a fantastic team.
"On behalf of the whole team at Wilmslow Health Centre, the clinicians and all our support staff, a huge thank you!
"Primary care in the UK does an amazing job. We do 90% of the work in the NHS on less than 10% of the total budget. The challenges we face are many and are only going to get worse.
"Now, more than ever, technology and innovation can and DO make a difference.
"We are but a small example of doing things differently and thriving in a challenging environment.
"Thank you again for your support and a special thanks to my wonderful family whose support remains invaluable."