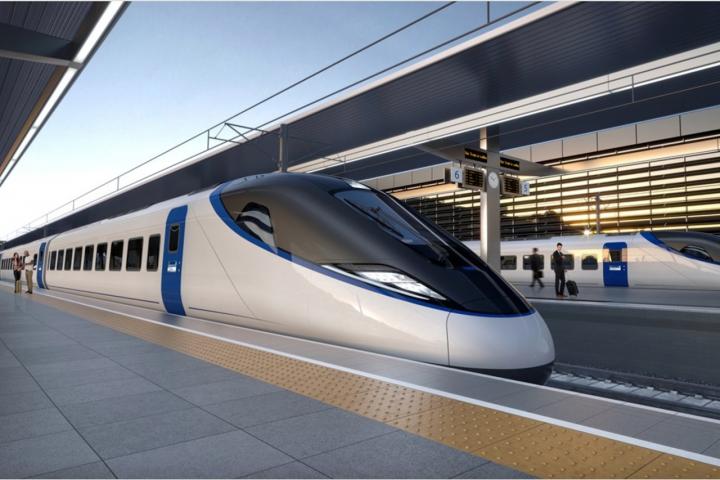 Cheshire East Council says the Government's decision to scrap HS2 north of Birmingham is a 'devastating blow to Crewe, Cheshire East and the wider region'.
Today (4 October), the Prime Minister Rishi Sunak announced that he is 'cancelling the rest of the HS2 project' – meaning high-speed rail will not make it to Crewe.
He also announced that 'every single penny' that Phase 2a and 2b would have cost will be 'reinvested', with £36bn for 'hundreds of new transport projects in the North, and the Midlands and across the country'.
The council is now urging Government to provide assurance that Cheshire East will be provided with sufficient funding from this £36bn HS2 saving to enable new transport projects and equivalent economic growth.
Councillor Sam Corcoran, leader of Cheshire East Council, said: "Today's announcement from Government is extremely worrying and disappointing and has significant and far-reaching impacts on the council's plans, our communities and businesses, and the North as a whole.
"The council has long supported the principle of HS2 and its core objectives to connect the largest economic regions across the UK, and we have already invested and committed significant funds and resource through our efforts to maximise the benefits and opportunities of HS2 to Crewe and Manchester.
"Investment in the full HS2 western leg to Crewe and Manchester would improve places and prosperity across the region and be the vital economic backbone to unlock growth, regeneration, and new jobs – delivering opportunities and benefits for generations to come.
"Phase 2a and 2b are also critical to delivering levelling up to places like Crewe – where half of the council wards are in the top 10 per cent most deprived in the country.
"But today's U-turn from Government will result in levelling down, not up, and is a devastating blow to Crewe, Cheshire East, and the wider region."
Last week, the leader and deputy leader of Cheshire East Council wrote to the Prime Minister asking for an urgent meeting before any decision was made on HS2. It received no response.
Cllr Corcoran added: "We of course need time to understand the full scale of the impact of Government's announcement. But the council has already committed £11.2m to long-term plans based around 5-7 high-speed trains per hour stopping in Crewe, knowing that the eventual economic benefits would have been far greater, and local regeneration plans are already under construction.
"In Crewe alone, HS2 would unlock nearly 5,000 new jobs, 4,500 new homes and boost the local economy by £750m.
"This was a once in a lifetime opportunity which has now been pulled from underneath us.
"That is why despite today's news, we will work with our neighbours, partners, and businesses in the North to make the case to Government to reconsider its decision and to deliver on its promises to the North through delivery of the full western leg of HS2 to Crewe and Manchester and future commitments to Northern Powerhouse Rail."
Cllr Craig Browne, deputy leader of Cheshire East Council and chair of its highways and transport committee, said: "HS2 is not about speed or a fast train to London; it is about freeing up capacity across our congested northern rail network so that we can get the regular, reliable services upon which our businesses, commuters and visitors expect and deserve.
"It is important for an integrated sustainable transport strategy for Cheshire East and the sub region.
"It is also about economic growth and levelling up, with HS2 estimated to boost the economy of Cheshire and Warrington by £2bn per annum alone – a hugely significant sum.
"That is why for more than a decade, the council has worked collaboratively and constructively with Government on its plans for HS2 north of Birmingham and has developed the Crewe Hub vision – based on the HS2 promises Government has made to Crewe and Cheshire East.
"This includes recent commitments to identify and undertake design work on the interventions needed at Crewe Station, with the Department for Transport funding a study on urgent infrastructure requirements, which took place just a few weeks ago.
"As a result of today's announcement, our ambitious plans for growth will no longer be viable and it is a fresh burden on already extremely stretched council resources.
"We will now seek answers from Government on how it intends to compensate the council, and its partners, for the significant financial investment, time and resources already expended, and the passion that local authorities, communities and business have invested in the continued promises of HS2 over many years and ensure that this has not been in vain. This includes seeking funding for transport infrastructure."
Cllr Browne added: "Today's announcement from Government has come as a particular shock given it was only in August that we welcomed Minister of State for Rail and HS2, Huw Merriman MP, to Crewe.
"We discussed positively how rail infrastructure can support town centre regeneration, and the benefits HS2 would bring to Crewe, and he saw first-hand why Crewe station desperately needs investment to ensure it is future-proofed – irrespective of HS