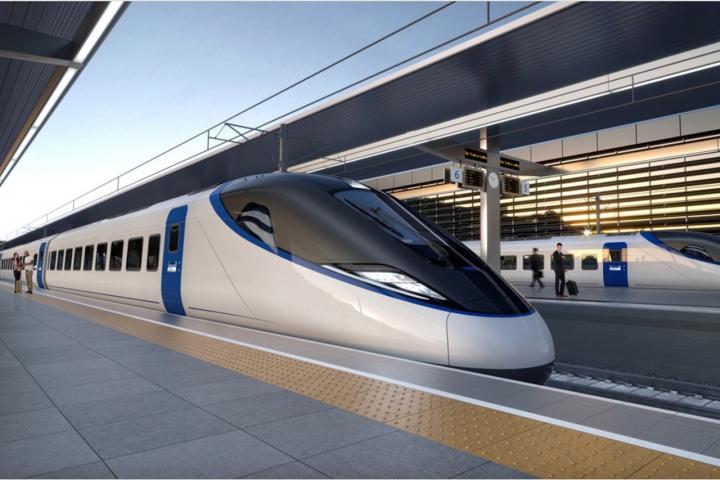 Cheshire East Council has joined Northern leaders in calling on the Government to continue with its current plans for HS2 north of Birmingham and to support Northern Powerhouse Rail.
Yesterday (27 September), the council's deputy leader, councillor Craig Browne, joined fellow members of Transport for the North's board in supporting a resolution to reaffirm the board's 'unanimous position as set out in our statutory advice to government, that we must transform the North by building both HS2 and Northern Powerhouse Rail in full'.
It follows ongoing and intense speculation around the future of both schemes.
Cllr Browne said: "The council is extremely concerned about speculation that HS2 is to be scrapped north of Birmingham, and I am pleased to have stood alongside colleagues at Transport for the North's board and to have backed the resolution that was made – making our position clear that delivering HS2 in full, as planned, is critical to unlocking the North's full economic potential.
"The ongoing uncertainty and lack of clarity about the future of HS2 delivery to Crewe and Manchester has ramifications for Cheshire East and its plans, the wider region, and its communities and businesses.
"Businesses need confidence to invest but the continued speculation and delay is eroding that confidence, and this is a key message that is being echoed by other Northern leaders through Transport for the North and the Northern Powerhouse Partnership.
"Similarly, local authorities have made their own investment priorities. Cheshire East Council has long-supported the principle of HS2 to Crewe and has already committed £11.2m to building its regeneration aspirations around this project.
"HS2 Phase 2a and 2b will provide the vital economic backbone to unlock growth, regeneration, and new jobs across Cheshire East and the North – unlocking opportunities and benefits for generations.
"Investment in the full HS2 western leg to Crewe and Manchester is critical to this and to provide key infrastructure for NPR to be delivered in the future, ensuring that the serious capacity issues across the northern rail network are addressed.
"The Crewe Hub will be the first HS2 hub station in the North and a key catalyst for growth and levelling up. In Crewe alone, HS2 will unlock nearly 5,000 new jobs, 4,500 new homes and add boost the local economy by £750m.
"We of course recognise that the country is facing very difficult financial challenges and that public funds need to be spent responsibly.
"However, the long-term economic benefits to the north of England and to our transport network will far outweigh the short-term costs of these two projects, and this cannot not be ignored."
Earlier this week, the leader and deputy leader of Cheshire East Council wrote to the Prime Minister asking for an urgent meeting before a decision is made on HS2.
Cllr Sam Corcoran, leader of Cheshire East Council, said: "The full western leg of HS2 is critical to delivering levelling up to places like Crewe and we have made long-term plans – based around 5-7 trains per hour stopping in Crewe – to ensure that we are in the best possible position to maximise the significant economic benefits and opportunities it will bring.
"Certainty that these critical investments will be delivered, and by when, will provide confidence to local areas, communities, businesses, and potential investors to enable them to develop their own investment plans.
"This would see benefits of HS2 to places such as Crewe unlocked years before the first services arrive.
"The council has worked collaboratively and constructively with Government to date. This includes receiving recent commitments to identify and undertake design work on the interventions needed at Crewe Station, with the Department for Transport funding last month's study on urgent infrastructure requirements.
"While we await further information about the delivery of HS2, we will continue to work with our neighbours, partners, and businesses in the North to continue to make the case to Government to deliver on its promises to the North.
"We absolutely need HS2 to come to Crewe and to get the full benefits of that, we need HS2 to go on to Manchester and for Northern Powerhouse Rail to be delivered too."