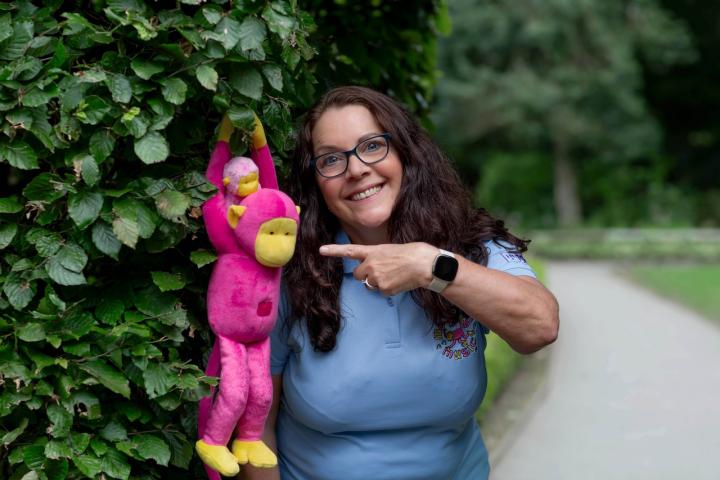 Promotional Feature
A music-loving mum, with a passion for singing, is launching a new business venture for babies and toddlers across the local area.
Monkey Music classes, which provide interactive musical activities for children from 3 months to 4 years of age, are already established further South, but Chrissie Parris of Cheadle Hulme, is the first to open the doors of Monkey Music in the North with Monkey Music Alderley Edge and Cheadle. From September, Monkey Music sessions will be launching in Alderley Edge, Poynton and Bramhall.
Chrissie, who has a passion for working with babies and pre-schoolers, as well as music and singing, saw the opportunity to run her own Monkey Music franchise as the perfect way of combining her interests, whilst joining a successful business model that has been loved by parents since its launch in 1993.
The mum of four commented: "I have worked previously with children as a swim teacher and loved it, the reward you get from teaching little ones a new skill is incomparable. I also enjoy learning new skills and have spent time developing my love of singing by taking lessons, vocal coaching and college courses to expand my repertoire and even venturing into Classical and Opera, and performing locally."
Chrissie continued: "After having a hip replacement earlier this year, I was finding poolside work a struggle for my recovery. I decided to investigate alternative opportunities to utilise my skills and my interests, and one that was on dry land! I couldn't believe it when I came across Monkey Music, it combined my love of singing and working with children and felt like the perfect opportunity for me. I feel so proud and excited to be able to bring such a reputable brand to the North West and share their amazing classes with the local community."
Angie Coates, CEO and founder of Monkey Music, commented: "We are so excited to have Chrissie on board. Her enthusiasm and passion make her an ideal Monkey Music franchisee. Being musically trained, Chrissie has so much knowledge to share with the families that come along to her classes, not that being musical is absolutely necessary as you can manage a franchise with teachers if you don't want to sing yourself. We wish Chrissie all the best for her future with Monkey Music!"
Monkey Music Alderley Edge and Cheadle will initially launch at the following venues and are offering customers a complimentary first class. For more information and to book, visit: https://www.monkeymusic.co.uk/area/alderley-edge-cheadle. You can contact Chrissie on 0161 518 0588, or email [email protected]
Mondays - Poynton Civic Hall, Poynton Civic Hall, Off Park Road, Poynton, Cheshire, SK12 1RB
Wednesdays - Bramhall Methodist Church, Bramhall Methodist Church, 23 Bramhall Lane South, Bramhall, Stockport, Cheshire, SK7 1AL
Fridays - Chorley Village Hall, Chorley Village Hall, Knutsford Road, Alderley, Cheshire, SK9 7SF
Photo: Chrissie Parris of Monkey Music Alderley Edge and Cheadle.