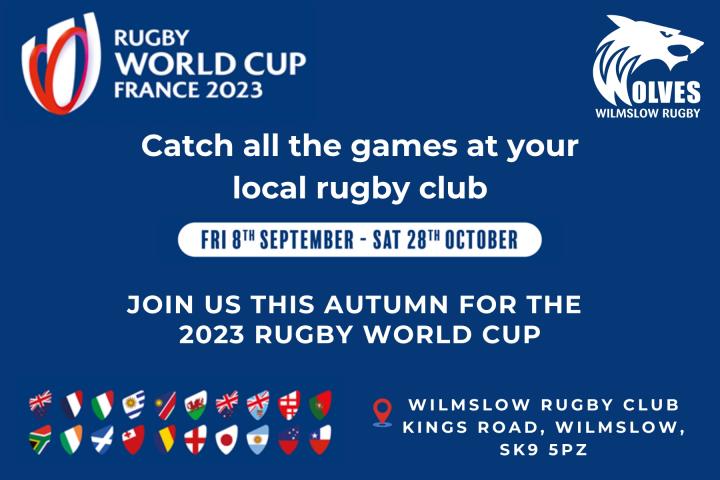 Promotional Feature
Rugby fever is about to grip Wilmslow, Alderley Edge and surrounding areas as Wilmslow Rugby Club proudly announces its grand screening of the upcoming Rugby World Cup. Rugby enthusiasts, mark your calendars, because this is an event you won't want to miss!
The Rugby World Cup, one of the most anticipated sporting events on the year, is set to kick off in September and Wilmslow Rugby Club is your go-to destination to witness every try, scrum, and epic tackle. As the world unites to celebrate the spirit of rugby, we invite you to join us at down at the Club House for an unforgettable sporting experience.
Why Choose Wilmslow Rugby as your local home for the RWC?
Unmatched Atmosphere: At Wilmslow Rugby Club, we know how to create the perfect atmosphere for rugby fans. Our dedicated space will be transformed into a rugby haven, complete with giant screens, surround sound, and stadium-like seating. You'll feel like you're right there on the field.
Exclusive Deals: We understand that enjoying a World Cup event should be accessible to everyone. Our club is offering exclusive food and beverage packages, including discounts on your favourite match day snacks and drinks.
Community Spirit: Rugby is more than just a sport; it's a community. You'll be surrounded by fellow fans who share your passion for the game. It's the perfect opportunity to make new friends and share the excitement.
Family-Friendly: We welcome fans of all ages, making it a fantastic event for the entire family. There will be kids' activities, face painting, and special seating areas for families to enjoy the matches together.
What to Expect at Wilmslow Rugby Club
Live Screening: Catch all the World Cup action on our jumbo screens. We'll be showing every match, from the opening ceremony to the final showdown, live and in HD.
Themed Decor: Immerse yourself in the rugby spirit with our themed decorations showcasing all 20 teams taking part.
Prizes and Contests: Participate in fun contests and quizzes during halftime, and stand a chance to win exciting prizes.
Mouth-Watering Food: Enjoy a delectable range of rugby-inspired dishes and drinks, specially curated for this event.
Dedicated Staff: Our friendly and knowledgeable club house staff will ensure you have a fantastic experience throughout the tournament.
Don't miss out on the rugby event of the year! Join us at Wilmslow Rugby Club and be a part of the excitement, camaraderie, and sporting history. Let's cheer for our favourite teams and create memories that will last a lifetime.
For more information and a schedule of all games being show, visit our website www.wilmslowrugby.co.uk or contact our Events Manager, Carole Weston on 07411 389700.
Get ready to experience the Rugby World Cup like never before – at Wilmslow Rugby Club.
Wilmslow Rugby Club - Where Passion for Rugby Meets Unmatched Entertainment!
Tags: