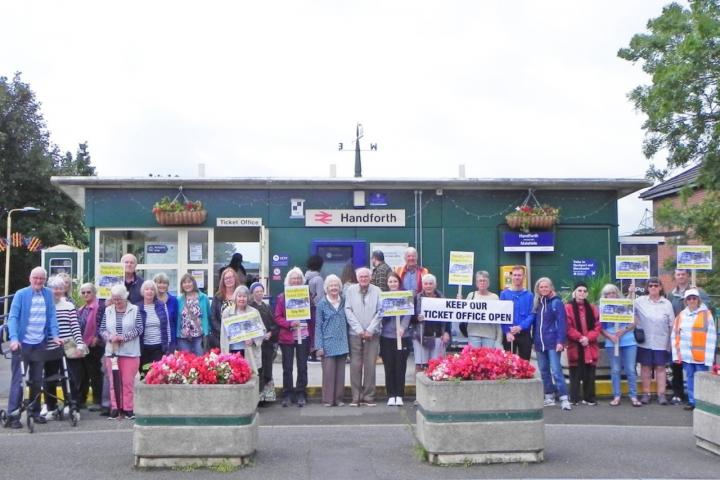 Wilmslow Town Council has objected to the planned closure of Wilmslow Station's ticket office.
Plans to axe up to 1,000 ticket offices across the UK, including Alderley Edge, Handforth and Wilmslow, were unveiled by the government on July 5th, having been proposed by the Rail Delivery Group (RDG) - an industry body which represents private railway operators.
Wilmslow Town Council has sent the following response to the consultation, into the plans to close hundreds of ticket offices, which has been extended until 1st September.
"The Changes to Wilmslow Booking office propose its total closure. Wilmslow Town Council objects to this proposal as Wilmslow is a Class C2 important feeder station classed as a busy railhead by the Department for Transport. It is served by local, inter-urban and Inter-City trains for a variety of train operating companies.
"Wilmslow Station's booking office processes complex travel tickets for people and this service is important for visitors, new passengers and people not used to booking tickets online or by telephone. Some groups in society are known to face greater challenges using technology to book tickets online, by phone or by using ticket machines - these being disabled and older service users.
In Wilmslow, 20% of the population is over 65 and this figure is projected to increase over the next 10 years. Both age and disability are protected characteristics as defined by the Equality Act (2010), in the absence of an Equality Impact Assessment it is the view of Wilmslow Town Council that the proposed changes would disproportionately negatively impact protected groups and is therefore discriminatory.
"Wilmslow Town Council believes this face-to-face service provides a valuable service and should be retained.
"Network Rail has been considering plans to re-develop the station with enhanced facilities and enhanced interchange. Withdrawing the booking office service flies directly in the face of these plans.
"At the conclusion of the consultation, should the decision be taken to close ticket offices, Wilmslow Town Council believes that simplification and standardisation of ticketing is an essential pre-requisite. This is particularly the case for Wilmslow which is served by three different train operating companies which all have their own ticketing policies."
The recent announcement of plans to close the ticket office at Handforth station has also come as a blow to the Friends of Handforth Station (FoHS) who use the building for exhibitions of artwork, floral displays, tool storage and the supply of water and electricity.
On Saturday 12th August 2023, FoHS were joined at Handforth Station by local residents in a demonstration of community support for keeping the ticket office open (pictured above).
FOHS president, Mike Bishop (pictured left) said "The support of the local community and Handforth Town Council has been wonderful. We have received many supportive messages both as hard copy left at the station and as posts on the FoHS website. However, we need many more people to support our cause. Those wishing to show their support for keeping Handforth's ticket office open are encouraged to e-mail an objection to ticket office closure to [email protected]
"Alternatively/additionally local residents can express their support by signing a petition to keep ticket offices open."