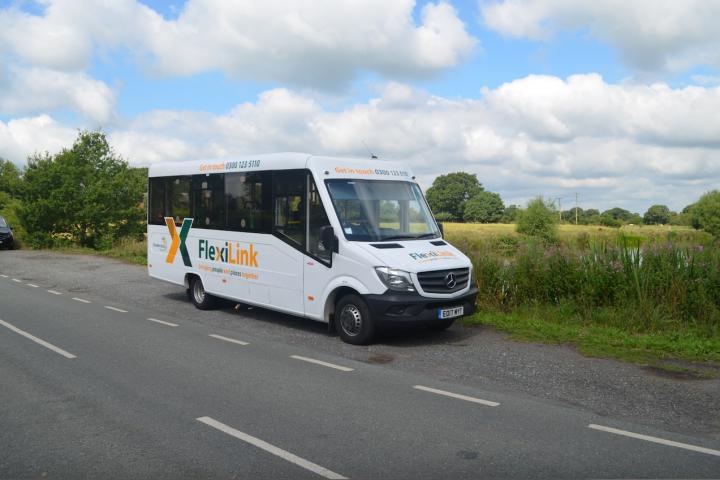 Cheshire East Council is inviting comments on proposals for its FlexiLink service as it looks to improve and modernise its offer to passengers.
FlexiLink currently provides travel opportunities for Cheshire East residents who are aged 80 or over, have a disability, or live beyond the reach of any other public transport.
It offers a demand responsive service, rather than operating to a set timetable or route, and shared transport to passengers who specify their desired location and the time of pick-up and drop-off. The FlexiLink service currently picks service users up from their own home and all journeys must be pre-booked at least 48 hours in advance via telephone
The current fare is £3 per journey or free to those who have a concessionary bus pass.The core hours of the service are between 9.30am and 2.30pm Monday to Friday.
Over the past nine months, the council has carried out a review of the service to understand how it has been performing in relation to its own ambitions for the local bus network and in light of wider changes across the bus industry in Cheshire East.
The council is now consulting on proposals which aim to improve and expand the current service, which is funded by the council, with the aim to make FlexiLink available to more users throughout the borough.
Councillor Craig Browne, chair of Cheshire East Council's highways and transport committee, said: "Our bus service improvement plan (BSIP) sets out the ambition for the local bus network to improve the speed, reliability, and quality of public transport, to encourage more residents to travel by bus and make fewer car journeys and to contribute to carbon reduction targets.
"A modernised FlexiLink service will help to achieve this.
"I encourage people to respond to our consultation – whether they are an existing FlexiLink user or not – so that we can provide a service that has greater benefit to local communities."
The draft proposals being consulted on include:
Making the service available to more age groups and regardless of ability so that more residents can use the service
Introducing a fare for concessionary pass holders to improve cost effectiveness of the service
Moving to designated pick-up points to improve efficiency of the service
Adjusting the operating hours of the service to cater for more journeys
Improving the booking system so that users are able to book onto the service online / via an app as well as by telephone
Providing an option to connect to existing bus and rail services to enable onward journeys
The consultation runs until 30th September.
Once the consultation closes Cheshire East Council will analyse all responses, produce a summary report of them, and publish this online on their consultation results webpage.