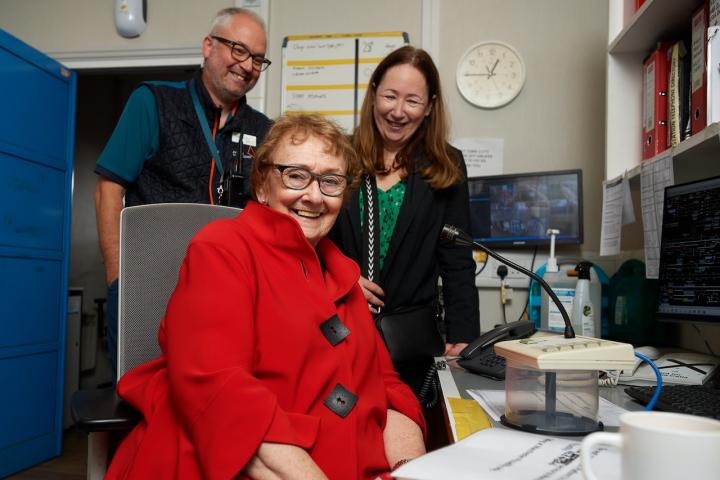 An 83-year-old grandmother from Wilmslow has achieved her lifelong ambition to become a station announcer.
June Rosen took to the public address system at Stockport during a surprise visit arranged by Avanti West Coast and her family – fulfilling her dream to make train announcements at a main line railway station.
Keeping passengers informed with arrivals and departures at the Greater Manchester station, the grandmother of four, brought a smile to people's faces with her friendly and cheerful nature.
June, revealed her long-held dream to read train announcements while celebrating her 82nd birthday. The retired NHS worker, who clocked up almost 60 years in the healthcare sector and now volunteers at a local hospice, told her family she loved standing on platforms listening to the announcements and thought it would be a lovely job.
The railway has played an important role in June's life for as long as she can remember. As a child she travelled by train to see her grandparents in Leicester and now makes regular journeys from Stockport to London with Avanti West Coast to see her family.
After discovering her mother's quirky ambition, June's daughter Cari Rosen, set out to make it a reality, and create another railway memory.
"The railway brings our family together, which is important to us all, so I thought if it's possible for my mum to experience what it's like to be a Station Announcer, it would make it even more special", said Cari.
Under the pretence of a day out on the train, June travelled to Stockport with her daughter, Cari, where she was met by the Avanti West Coast team who gave her a behind-the-scenes tour of the station and an insight into the announcer role, before letting her read aloud announcements for passengers on the platforms.
Explaining why she wanted to surprise her mum, Cari said: "Mum always puts others first. She's an amazing mum, grandmother, sister, and friend. Her work has been about other people and anyone who has ever worked with her is only too aware of how much she cared for her patients and the comfort she brought to many in their final days.
"Even now, in retirement, she continues to use those skills and qualities in her volunteering role. She does so much for others and it's lovely to be able to do something for her that shows how much she is valued by everyone who knows her. It's wonderful with the help of Avanti West Coast we've been able to let mum fulfil her long-held dream."
Karen Grimshaw, Avanti West Coast Station Manager at Stockport, said: "When we heard June's story, we couldn't wait to welcome her to Stockport to experience the role of Station Announcer, especially as the railway is close to her heart. While announcements are there to keep people safe and informed, they also provide an opportunity to brighten someone's day.
"June did a brilliant job of being that friendly, comforting voice and judging by the reaction of people's faces they seemed to enjoy listening to the announcements as much as she did reading them! We're delighted to have played our part in making a dream come true and hope June will always remember this day."