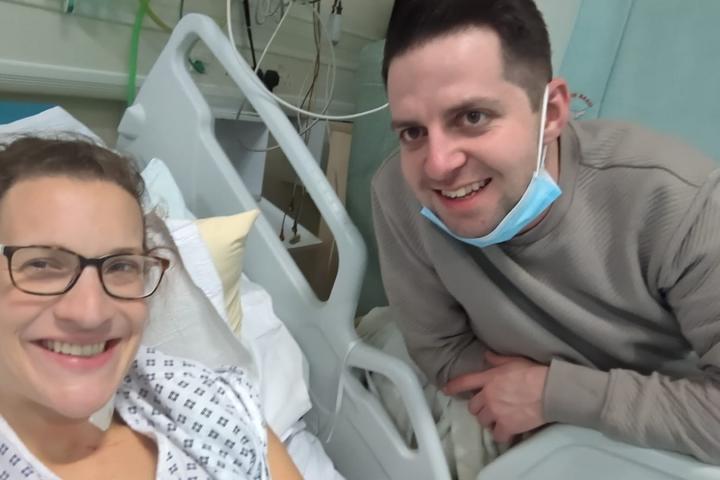 Wilmslow mum Sarah Knight, whose life was saved by strangers when she collapsed in a cinema, wants as many people as possible to learn the vital skill that saved her.
Sarah suffered a sudden cardiac arrest when out with husband Patrick in Didsbury in February this year. It was only thanks to the quick actions of her husband, members of the public and cinema employees using CPR and a defibrillator on her that she survived.
Now Sarah, with Patrick and their two children Leo (3) and Lyra (1), is encouraging others in her community to learn how to do CPR and pass the skill on to others – creating a ripple effect that she hopes could save more lives in the future.
Sarah's workshop to teach 30 people how to do CPR at Handforth Youth Centre on 23 July will be sponsored by Handforth Town Council, led by her doctor sister Dr Elizabeth Dapré and supported by the British Heart Foundation (BHF).
Sarah, who hopes this event will be just the first of many, is also encouraging people to download the BHF's CPR learning app RevivR - which teaches you how to do CPR in just 15 minutes using only your mobile phone.
Sarah and Patrick had been on a 'date night' to see the latest Avatar movie at a cinema in Didsbury when she collapsed.
Sarah says that the subsequent actions of her husband, cinema employees, a security guard and junior doctor saved her life - calling an ambulance, performing CPR, using a defibrillator and continuing to provide life saving treatment until ambulances arrived.
Sarah was taken to Manchester Royal Infirmary where she went for a scan in the acute cardiac centre. She stayed in hospital for several days and a few weeks later was fitted with an ICD (an implantable cardioverter defibrillator) and has had surgery to repair one of her heart valves.
It has been a long road to recovery but now Sarah is finally getting to the stage where she can look ahead to her future – and top of her agenda is doing something positive to try and get more people trained to give potentially life-saving CPR.
Sarah said "For me, having people around me that night who had been trained in how to do CPR literally meant the difference between life and death.
"Having that knowledge and that confidence is so important – it's unlikely that you will ever need to use it, but it would be nice to think that if the moment came you would be up and you would be ready.
"This is why I am hoping to get as many people as possible trained in CPR – and to create a group of people who can act as 'torch bearers' in the community, learning the skill and then passing it on to others."
BHF Fundraising Manager for Cheshire and Greater Manchester East, Leah Goodhind, said "Sarah went through something incredibly traumatic and now wants to do what she can to ensure others get the same chance to survive that she did.
"She's also encouraging people to download the BHF app RevivR which is a brilliantly quick and simple way to learn CPR and make sure that you have the skills and the confidence to step up in the same way that the strangers did who saved Sarah's life."
Sarah's CPR training event will take place at Handforth Youth Centre, Old Road, Handforth on Sunday 23 July. To find out more and book a place, email Sarah at:
[email protected].