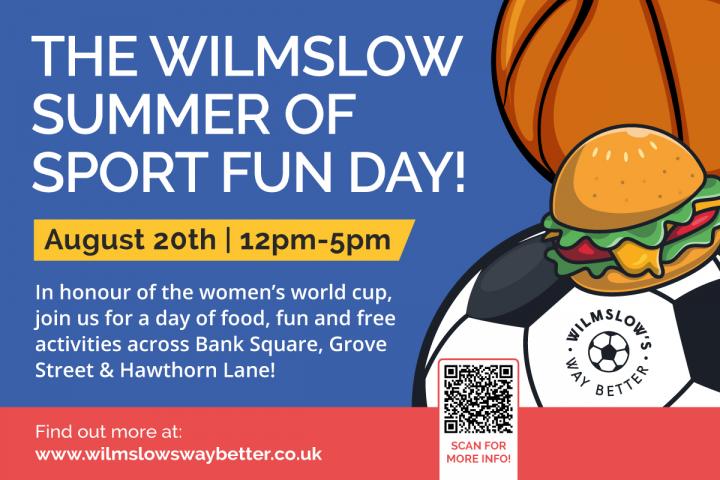 Promotional Feature
Following the success of The Coronation Event in May, you asked and Wilmslow BID listened and will be bringing you another fun packed day of free activities, music, food, drink and fun times.
The Wilmslow Summer of Sport Fun Day, hosted by Cheshire Silk FM on Sunday 20th August from 12pm to 5pm, will have something for everyone spanning across Bank Square, Hawthorn Lane and Grove Street.
In honour of the Women's World Cup there will be a football zone with giant inflatable human football table, penalty shoot-out and football darts.
Not a fan of football? Never mind as we have plenty of other games and activities including a basketball challenge and carnival inspired ring toss & ball in the bucket. We even have a games zone for the little ones including Jenga, Connect 4, Snakes & Ladders, Noughts & Crosses and giant rubber lego bricks!!
Want to just soak up the atmosphere, enjoy the day and hopefully the sun? Then kick back and relax in one of the deck chairs and enjoy the music and sample some food and drinks from one of the town centre businesses who will be setting up outside again like they did for the Coronation Event back in May that everyone enjoyed so much.
The following roads will be closed during the event:
Hawthorn Lane - From the junction of Green Lane to the junction of Hawthorn Grove
Green Lane
Swan Street
Grove Avenue - From the junction of Grove Street to the junction of Grove Way