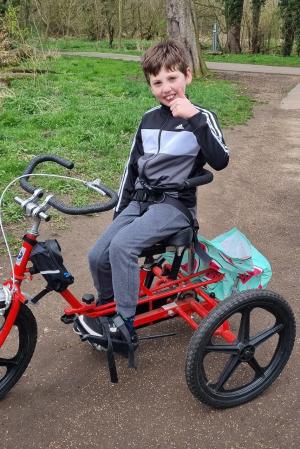 Two years ago, Louie, who has cerebral palsy, rode 100 miles on his trike to raise money for Stick 'n' Step, the charity that supports him.
Now, Louie, who is 11 years old and lives in Wilmslow, has set himself an even greater challenge. He is planning to ride an amazing 200 miles on his specially adapted trike by September.
Mum Lizzy says, "Louie has been attending Stick 'n' Step for several years now. He loves going to his weekly conductive education sessions and meeting up with his friends there. As well as building his confidence, he's learning crucial life skills too, such as cookery. He enjoys helping out in the kitchen at home now as well.
"Stick 'n' Step has given Louie so much, he really wants to give back. Two years ago he raised over £3,000 by cycling 100 miles. He'd love to beat that total this time when he manages to ride 200 miles."
Click here to help Louie reach his fundraising target.
Stick 'n' Step provides free weekly conductive education sessions to children and young people with cerebral palsy up to the age of 25, allowing them to gain the skills they need to live more independent lives. The charity relies on supporters and volunteers to help raise the £750,000 required to deliver its services to over 100 families each year at its Wallasey and Runcorn centres.