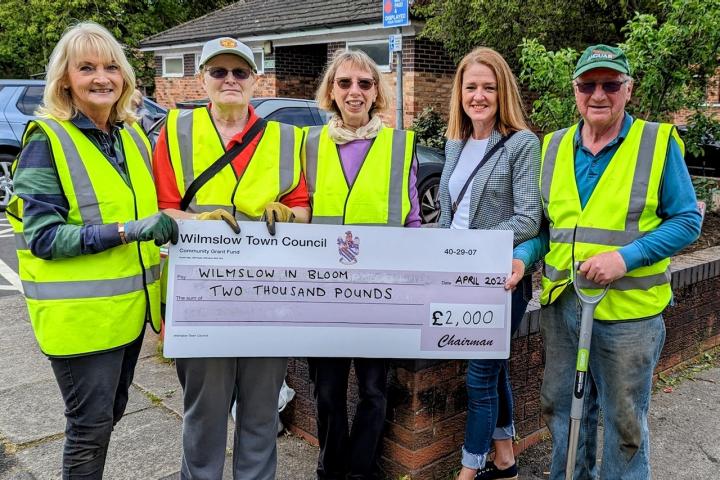 Wilmslow Town Council has continued its support of Wilmslow In Bloom this year by awarding a £2,000 Green Community Fund award for their entry into the 2023 Royal Horticultural Society 'In Bloom' competition.
Wilmslow In Bloom is a community partnership made up of local voluntary groups who work to improve the attractiveness and appeal of the town. The team encourage businesses and organisations to get involved in helping brighten up Wilmslow by planting colourful displays of edible and flowering plants.
Wilmslow In Bloom has represented Wilmslow in the nationwide RHS In Bloom competition since 2012, winning gold awards each year. Last year's theme was the Queen's Platinum Jubilee, with a blue, white and red theme that resulted in gold or silver awards for all seven entrants and the town being awarded the Community Trophy for the first time since 2015.
This year's theme is 'New Bloom' in honour of new beginnings, reflecting a new King as well as changes in the Wilmslow In Bloom group. Judging will take place on Thursday 27th July.
The nine Wilmslow groups being showcased in 2023 are: Wilmslow in Bloom, CETRA and Friends of Colshaw Parks, Friends of Wilmslow Station, HMP8 YO1 Styal, Lindow Common, Wilmslow and District Rotary, Wilmslow Community Market Garden at Oakenclough Childrens Centre, Wilmslow Community Market Garden at The Temp and Wilmslow United Reformed Church.
The grant from Wilmslow Town Council will be used to cover this year's competition entry fee in addition to items including plants and compost, planters for the local schools, liability insurance, artwork for flyers and the In Bloom competition Portfolio.
Wilmslow Town Council Chair, Jon Newell, said, "We are delighted to continue our support the for the Wilmslow In Bloom team, who work incredibly hard to make our town more beautiful and biodiverse. The competition has the added benefit of encouraging and recognising both the individual and combined efforts of several local community groups. We wish all groups the best of luck for judging day on 27th July."
The Wilmslow in Bloom team would welcome new volunteers at their weekly gardening sessions, held every Tuesday between 10am – 12pm. You don't have to be a garden expert: come along to weed and enjoy the friendly banter. Each week it is a different location which is advertised on the Wilmslow in Bloom Facebook page. For more information email Sue Worthington [email protected].
Photo: Wilmslow In Bloom volunteers (L-R): Sue Worthington (Wilmslow in Bloom Chair), Andrea Barton, Pat Timothy, Julie Dawn Potts and Phil Barton.