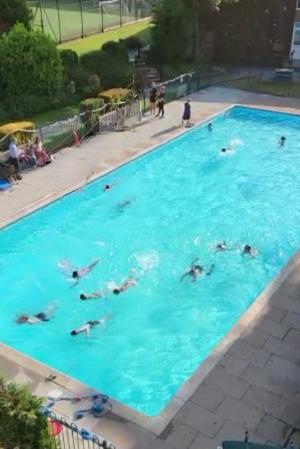 Promotional Feature
The heated outdoor pool has been a benefit for pupils at The Ryleys School since 1877. Modernised and maintained impeccably, children from Pre Reception to Year 6 enjoy the pool for swimming lessons, swimming galas, kayak club, water polo and much more.
Understanding the considerable benefits of swimming for physical and mental health, the school has researched various options available to increase the swimming opportunities for pupils. After careful consideration, the school plans to build a state of the art pool enclosure over the existing swimming pool with fully retractable roof and sides.
This impressive building will not only enable all year round swimming but retain the tradition and benefits of swimming in the fresh air when the weather permits. There is a national shortage of access to a pool and swimming lessons. The school is certain this development will not only significantly improve the offering to existing and future families, will considerably improve our green status and have a positive impact on the local community.
The project is estimated to cost around £250,000 and will be completed as soon as the funds have been raised, hopefully to be open no later than September 2024.
To kick off the fundraising, the school has launched an ambitious sponsored swim. Between Monday 5th and Friday 30th June, pupils and teachers of The Ryleys School will swim the length of the coast of Great Britain in their school pool. A total of a whopping 126,726 lengths! This ambitious scheme is the first of many fundraising initiatives planned to raise £250k to build a state of the art pool enclosure.
You can read all about the project here: https://www.theryleys.com/big-splash or contact Headteacher Mrs Langford for more information.
Tags: