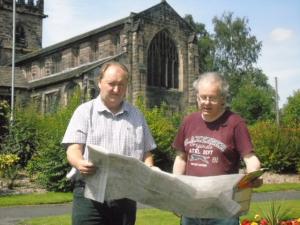 Wilmslow History Tours return this September as part of English Heritages Open Festival .
Each September thousands of volunteers across the country invite people to experience local history, architecture and culture and its all for free.
Town Councillor Jon Kelly, the Wilmslow Tours Organiser says "The Tours will run between 10 -18th September. This year we will be marking an event 180 years ago which totally changed Wilmslow for good as well as celebrating a famous chemist who invented a life saving anti-cancer drug and also one of the world's greatest minds.
Our free tour is by foot around the centre of Wilmslow and takes about two hours. We depart Bank Square at 11 o'clock sharp and finish where we start. Bookings are now open, we keep numbers to eight guests plus guides so it is essential people book a place on a tour in advance by email to [email protected] or by telephone 01625 250881."
David Briggs, Chair of Wilmslow Historical Society and fellow tour guide says. "Heritage Open Days are part of England's largest grass roots heritage festival involving over 40,000 volunteers and 5,000 events. The beauty of the festival is that there is often new insight to buildings and sites and our Wilmslow walk and talk will reveal some of our, local, fascinating "hidden" history."
Photo - Two of the Wilmslow Tours Guides Jon Kelly, and Steve Hunt consult the tour map in the memorial gardens by St Barts Church, the site of Wilmslow's Saxon settlement.