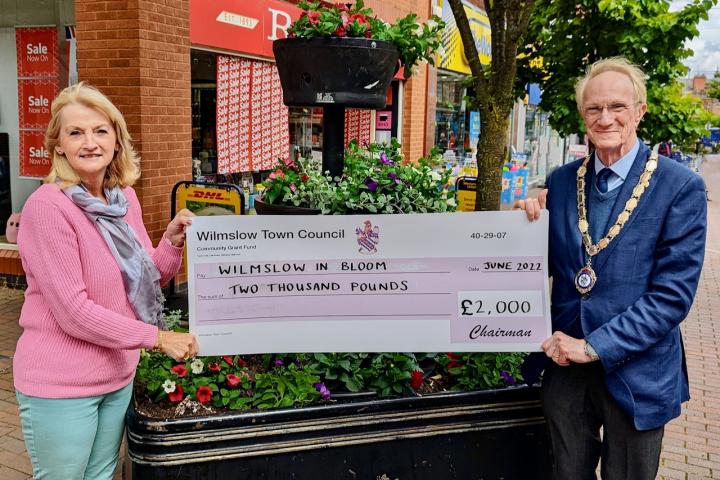 Wilmslow Town Council has awarded Wilmslow In Bloom a grant of £2,000, to support their entry into this year's Royal Horticultural Society 'In Bloom' competition.
Wilmslow In Bloom has represented Wilmslow in the nationwide RHS In Bloom competition since 2012. This year's theme will be the Platinum Jubilee, and judging will take place on Monday 4th July.
Wilmslow In Bloom is a community partnership made up of many local voluntary groups. The Wilmslow community group sites being showcased this year are Chapel Lane Love the Lane, CETRA and Friends of Colshaw Parks, Friends of Wilmslow Station, Lindow Common Advisory Group, Wilmslow and District Rotary, Wilmslow Community Market Garden (Oakenclough Children's Centre), Wilmslow Community Market Garden (The Temp) and Wilmslow United Reformed Church.
The Wilmslow Town Council funding will be used for items which include planters for local schools, Jubilee-themed plants, liability insurance, website domain and artwork for flyers and the competition Portfolio.
In addition to the Community Grant award, Wilmslow Town Council has paid this year's In Bloom competition entry fee, as well as funding and maintaining the Wilmslow Town Council floral displays, which this year include Queen's Platinum Jubilee planters.
Wilmslow Town Council Chairman, Frank McCarthy, said, "We are delighted to support a project that recognises both the individual and collective efforts of numerous local community groups. The Wilmslow In Bloom team work incredibly hard to help make our town biodiverse and beautiful; we wish them the best of luck for judging day on Monday 4th July."
Photograph: Wilmslow In Bloom's Sue Worthington with Chairman Frank McCarthy.