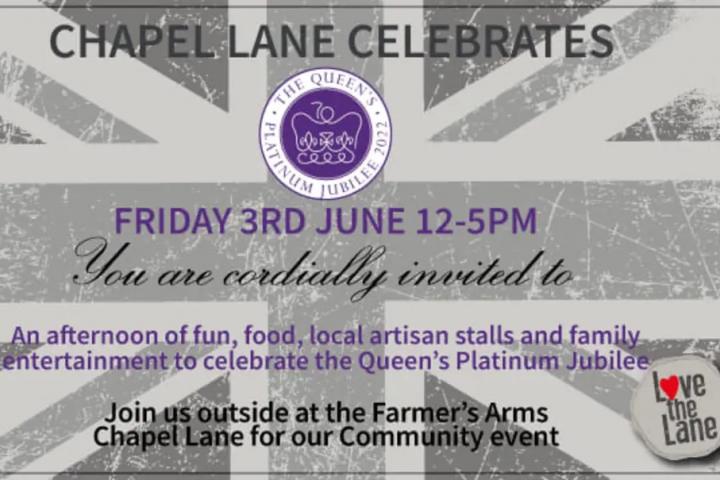 Preparations are well underway to celebrate the Queen's Platinum Jubilee in style next week.
Chapel Lane is hosting a fun-packed afternoon of family-friendly celebrations on Friday 3rd June, with Wilmslow's own Royle family member, Sue Johnston, OBE making a guest appearance.
It's free to attend and the organisers are inviting local residents to come and join the festivities which are taking place outside the Farmer's Arms pub.
Highlights of the day will include a BBQ, over 20 artisan makers' stalls, afternoon tea and cake, fun competitions, a raffle and a silent auction. There will be entertainment throughout the afternoon, including a Punch & Judy show, Bhangra dancers, an accordion player and themed sing-alongs.
The raffle and silent auction are a chance to win fantastic prizes including Warehouse Project event tickets, two bicycles, a 2-hour football party and free hire of a beautiful vintage party van. Funds raised will support the ongoing work of the Love the Lane community group.
At 4pm, Wilmslow's Sue Johnston OBE, star of the Royle Family sitcom, will draw the raffle and silent auction, and the winner of the children's handmade crown competition, 'Crowning Glory', will be announced.
The 'Right Royal Celebration' is being put on by the Love the Lane community group with support and donations from other local community groups and local businesses.
Julie Dawn Potts from Love the Lane said "I have a wonderful group of volunteers who have worked tirelessly to bring what we're hoping will be a very enjoyable and fun way to celebrate Our Majesty's amazing achievement. So put on your national colours and come and support our lovely local community!"
Highlights
12:00pm: Opening fanfare
1pm: Punch and Judy show
3pm: Bhangra dancers
3.20pm: Sing-along with Dougie
3.40pm: Punch & Judy
4pm: Sue Johnston OBE drawing the raffle
4pm: Crowning Glory – children's competition winner announced
4.30pm: Finale sing-along, ending with the National Anthem at 5pm.