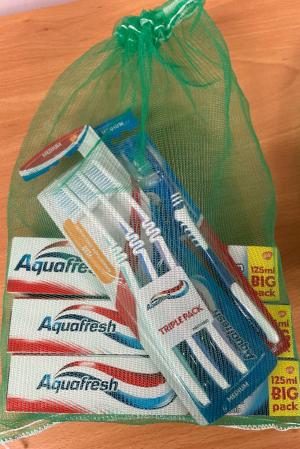 A Wilmslow charity has linked up with the Oral Health Foundations National Smile Month to increase awareness of dental hygiene.
Give a Smile, is Wilmslow based Bare Necessities Toiletry Banks' dental hygiene project. With the aim of ensuring households in deprived areas receive either a family or an individual pack - both contains three months' supply of quality dental products.
Bare Necessities expects to make up around 1500 of these packs this year and some 20 local charities will benefit including food banks, youth groups, women's refuges and homeless hostels.
Give a Smile is in its second year and was well received.
A spokesperson for The Welcome Café said "The dental packs were brilliant! Our families were so grateful to receive them and all our children will massively benefit from these! One of my Mums cried when I turned up with it and was so touched!"
Wendy Hobson, Chair of Bare Necessities Toiletry Bank said " We all know inequalities continue to be a burden for countless individuals, with tooth brush sharing and brushing teeth with water not uncommon in poorer households. It is not always easy to make oral health a priority over putting food on the table, with children from deprived areas more than twice as likely to have tooth decay compared to those from less deprived areas.
"Tooth decay is almost entirely preventable, however it remains the number one reason for childhood hospital admissions for general anaesthesia in the UK."
Bare Necessities and the Give A Smile campaign has recently been honoured with a Community Hero Award from Cheshire Community Foundation, highlighting the difference such projects are achieving in the local area.
You can donate online at Charities Aid Foundation (CAF) an easier online donation system https://www.cafonline.org/about-us
Bare Necessities Toiletry Bank was founded by two Wilmslow women in February 2018 to collect and distribute toiletries within the local community to help alleviate hygiene poverty experienced by those in financial crisis.
At present Bare Necessities Toiletry bank supports 32 local charities and organisations. Collection bins are located throughout the community and are guest hosted, on a campaign basis, by local businesses and groups. Bare Necessities Toiletry Bank needs all full-size, everyday toiletries, feminine hygiene products, dental and baby products as well as hotel and beauty miniatures. The only proviso is that they must be unopened and unused.
Tags: