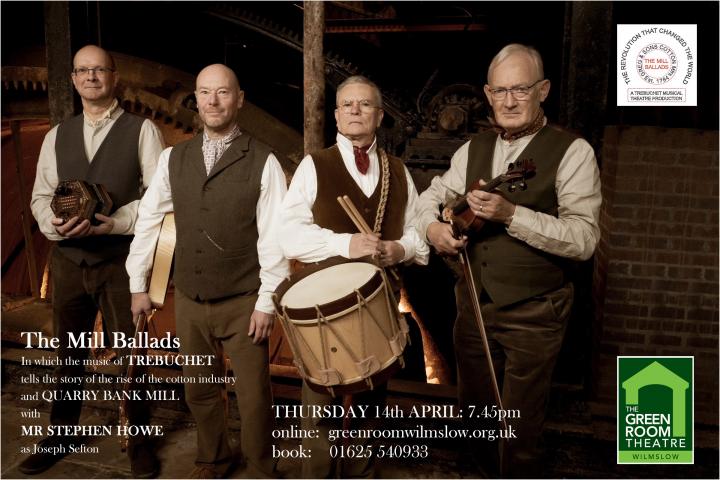 Musical trio Trebuchet and actor Stephen Howe will be performing The Mill Ballads at The Green Room Theatre on Thursday 14th April at 7:45pm
Blurring the lines between folk music, theatre and a history lesson The Mill Ballads tells the stories of real historical characters and events which took place in and around Quarry Bank Mill during the industrial revolution.
The year is 1845 and Joseph Sefton, played by Stephen Howe, recalls the experiences of his life during the cotton revolution through story telling, song and the music of folk group Trebuchet. The production is a special collaboration for Trebuchet's musicians, Keith Carter Harris, Mark Seyler and Steve Mansfield, who formed in the early noughties performing self penned and traditional folk songs.
Mark Seyler commented: ''We performed The Mill Ballads for the first time in October 2020 to a sell out audience just before the pandemic put future
performances on hold, so we are all delighted to be back on the road again and looking forward to performing it in the Green Room's unique studio theatre space in April.''
To book tickets, costing £10 visit greenroomwilmslow.org.uk or call the ticket line on 01625 540933.
The performance start at 7:45pm.
Photo: (left to right) Steve Mansfield, Keith Carter Harris, Stephen Howe and Mark Seyler.