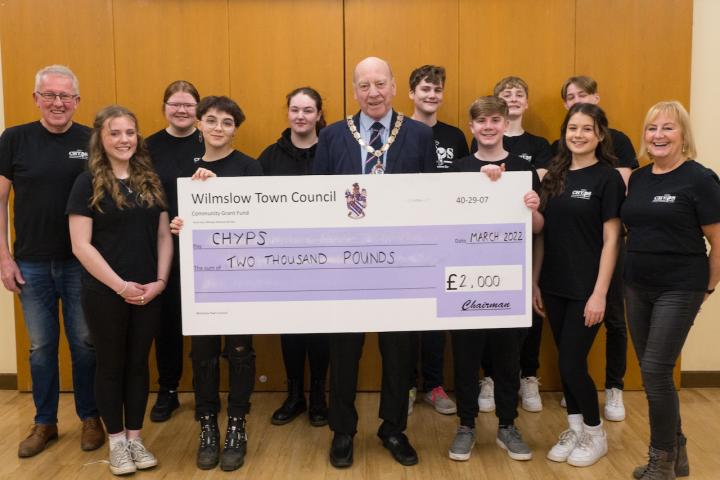 Wilmslow Town Council has awarded a Community Grant of £2,000 to Cheshire Youth Pantomime Society (CHYPS) for their new project.
The Drama for Life project will provide 48 three-hour drama sessions to over 60 young people from Wilmslow over a four-month period, leading to five public performances at The Evans Theatre at Wilmslow Leisure Centre.
The project aims to build resilience, enhance confidence, develop teamwork and improve self-esteem of those taking part.
The grant from Wilmslow Town Council will be used to help cover venue hire costs for the 48 drama sessions in Wilmslow and Alderley Edge.
Wilmslow Town Council Chair, Martin Watkins, said, "We are delighted to support a project that not only helps young people to develop skills that they can apply across all aspects of life, but also culminates in events that the whole community can enjoy in the heart of Wilmslow. We wish CHYPS every success with their project."
CHYPS Vice Chairman, Bill Beton, said, "CHYPS are hugely grateful to Wilmslow Town Council for their support. The pandemic was a tough time for the young people in CHYPS. They were desperate to get back to performing in front of a live audience. We were delighted to return with Peter Pan in January, and to move to our new home at the Evans Theatre at Wilmslow Leisure Centre. The positive feedback and buzz in Wilmslow that Peter Pan created was fantastic.
"The grant enables us to launch the Drama for Life project, which means we can expand our membership and support more talented teenagers from Wilmslow and the surrounding area. We are now planning for our next show, which will be Beauty and the Beast the Panto, on 4-8 January 2023, again at the Evans Theatre in the Leisure Centre. Rehearsals, funded by the grant, will start in September."