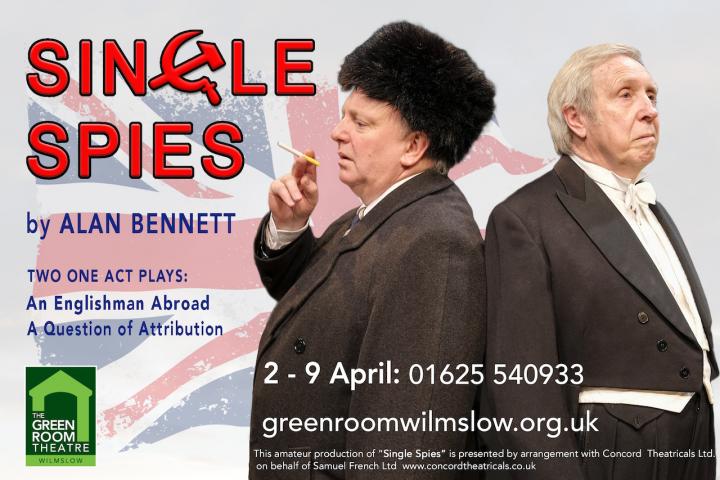 Single Spies by Alan Bennett is a unique double bill of one act plays about two of the UK's most notorious spies Guy Burgess and Anthony Blunt. The play won the 1990 Olivier Award for Best Comedy.
'An Englishman Abroad' follows exiled spy Burgess and his meeting in Moscow with actress Coral Browne and 'A Question of Attribution' focuses on Soviet spy Anthony Blunt's relationship with the Queen.
The play runs at The Green Room Theatre, Wilmslow from Saturday 2nd to Saturday 9th April 2022.
Helen Bingle who directs An Englishman Abroad explains, "Double agent Guy Burgess played by Paul Lewis, has defected to the Soviets and is living in Moscow. But when he is visited by the actress Coral Browne, played by Jane Newman, Burgess entrusts her with a top secret mission of her own."
Linda Batson Director of A Question of Attribution said, '' This play reveals that Sir Anthony Blunt, played by John Westbrook, was an accepted member of the Establishment. As Surveyor of the Queen's Pictures, he was on friendly terms with Her Majesty played by Gemma Duncan. But with a questionable painting on his hands and a policeman in his office, Blunt's latest trip to Buckingham Palace is looking awkward.''
To book tickets visit greenroomwilmslow.org.uk or call 01625 540933. Tickets cost £8 for members, £10 full price.
Each performance starts at 7:45pm.
Photo: (left) Paul Lewis as Guy Burgess (right) John Westbrook as Sir Anthony Blunt.
Tags: