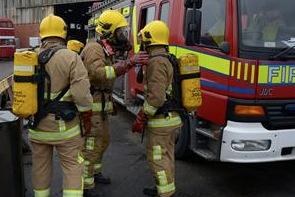 Firefighters were called to a fire at a house in Greenway in the early hours of this morning where a smoke alarm was sounding and a room was filling with smoke.
Two fire engines attended, one from Wilmslow and one from Stockport, shortly before 1.30am on Sunday, 19th December.
On arrival crews discovered that the smoke in the dining room was caused by a small smouldering fire involving a candle.
Firefighters wearing breathing apparatus used a hose reel jet to extinguish the fire and make the room safe and a large fan to clear the smoke.
They were in attendance for more than an hour.