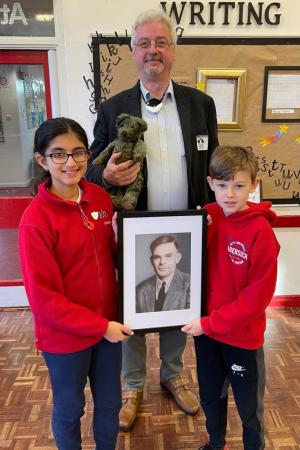 This year, remembrance celebrations at Lindow Community Primary School focused on thanking and remembering those forgotten heroes that, even though they did not fight at the frontline, played such an integral role in our national war effort, especially in the Second World War.
Lisa Oakes, Year 6 Teacher at Lindow Community Primary School said "With a local link to Wilmslow, Alan Turing was a significant person of the past, who children across the school have loved learning about and who they have been proud to celebrate as a person of great mathematical skill and intelligence, of great perseverance and self-belief in this code-cracking machine, of forward-thinking computing designs, at a time when he was doubted by many, and someone who faced much adversity in his personal life, that we want to respect and value."
The school's focus was inspired by Wilmslow Historical Society, who recently dedicated part of Wilmslow Library to Alan Turning, with the Turing room.
Lisa Oakes added "Students and staff at Lindow were delighted to be visited by David Briggs, Society chairman, who shared stories of Wilmslow's history and of Turing, Wilmslow's most famous person of the last as voted by the town's people.
Photo: David Briggs presented the school with a portrait of Alan Turing by local artist, Paul Webber, on behalf of both the Wilmslow Historical Society and the Wilmslow Civic Trust which was received by head boy, Benjamin Holder, and head girl, Gautami Sarseshpande.