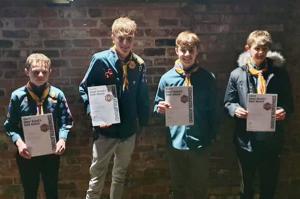 Four determined Scouts from 1st Handforth have earned the highest award a Scout can earn, the Chief Scout's Gold Award.
In order to do so Jamie Shenton, Ed Russell, Csaba Barnes and Charlie Marcombe had to complete all nine of the challenge awards, plus six activity badges.
The Chief Scout's Gold Award shows that they have given new things a go, worked as a team, and developed new skills.
All four Scouts joined 1st Handforth eight years ago and have worked their way through Beavers, Cubs and now Scouts.
Scout Leader, Sarah Templeton said; "This is a truly remarkable achievement particularly in light of covid restrictions meaning Scout meetings were limited to online meetings only for a considerable amount of time.
"All four scouts have attended numerous additional activities outside of the weekly meetings including many camps, volunteering at community events, shooting competitions and for two this included competing at the national scouting shooting awards at Bisley in 2018. I am immensely proud of their efforts resulting in them achieving our highest scouting award."