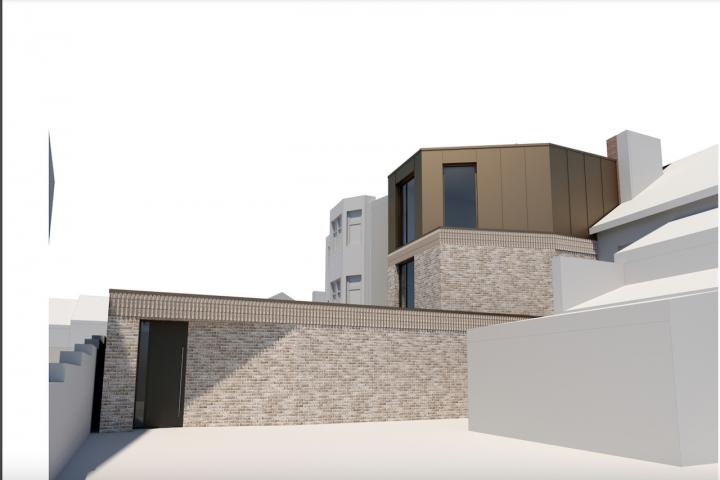 Planning permission to being sought to convert and extend a retail premises in Wilmslow town centre to create a commercial office premises.
The proposal is to convert the soon to be vacant retail premises at 25 Manchester Road to allow for the change of use of the property for offices, together with a part 2 storey pitch-roof extension and a part single storey flat-roofed rear extension.
In addition, there are alterations to the frontage of the property, a new feature entrance area and replacement windows.
The application is made on behalf of Mather & Co Ltd, with the proposed office space to be occupied by the applicant's expanded workforce, thus retaining the company's presence within the Manchester Road area of Wilmslow town centre, where they have been in business for over 25 years. The development would increase the number of employees at the site from 12 to 24.
Until now the site has been occupied by 'Kids Exchange', a retail shop premises with upper floor storage and ancillary offices. It is understood that the current owners are relocating elsewhere in Wilmslow.
The application states "The proposal will make economic and beneficial use of a soon to be vacant shop premises that requires considerable investment to bring the property back into use.
"The applicant company is a sector leader in the visitor attraction experience and design services, and the company aim to relocate project management and design teams into the building, creating jobs and investment in the local area as well as delivering a long-term viable and sustainable future for the commercial premises."
The current proposal is a resubmission of a previously refused planning application, ref: 20/3052M), which is currently pending appeal. - which included a part three storey extension and part single storey.
The proposal was refused on the grounds that the extension would be a dominant and visually intrusive feature which would fail to make a positive contribution to the area's character and identity, as a result of scale form and external design features.
The plans can be viewed on the Cheshire East Council website by searching for planning reference 21/5292M.