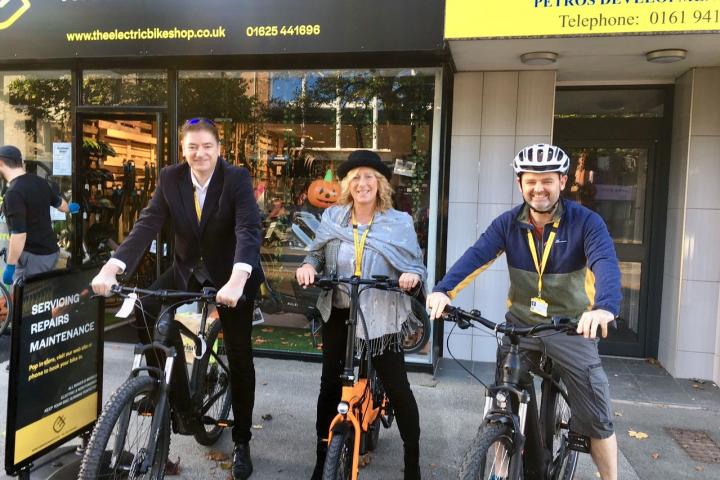 Wilmslow's Festival of Nature has kicked off with guided walks and talks taking place over the past couple of weeks and the pedal powered music event 'On Yer Bike' taking place in Bank Square today.
Featuring local bands 12 Bar Brawl, Joel Gardner and Blacksheeplad performing live along with musicians from Wilmslow High School. Plus special guest Bez from the Happy Mondays joining them for a Q&A as well as a DJ set.
This weekend marks the start of a week of activities that will see a range of events taking place every day during half term. Wilmslow residents have been signing up to join walks, family bulb planting sessions and tree planting sessions at Quarry Bank Mill and the local community garden.
Free cinema sessions are on at The Rex Cinema on Monday and Tuesday, showing The Lorax and The Day After Tomorrow. To book just contact the Rex directly.
If you fancy trying out an E-Bike there are free rides available next Friday and Saturday via the Festival website. On Thursday, 23rd October, the Festival hosted Cheshire East Councillors David Jeffray, Susie Akers-Smith and Craig Browne on an e-bike taster ride from the Electric Bike Shop.
The final weekend of half term will include a Family Fun Day on Saturday 30th at the Community Garden at Oakenclough featuring Dr Bike to give your bike a check over, health and wellbeing sessions, apple pressing, planting, games and activities as well as plenty of cake.
Then for Halloween there are family guided bike rides around Green Routes as well as a ride to Nether Alderley using the new Cycle Paths followed by the Pumpkin Trail on Chapel Lane which will start at 5pm and include food and dancing.
Sponsored by Wilmslow Town Council and many local businesses, the Festival of Nature is free for all to attend. To book or find out more check out the website on www.festivalofnature.co.uk.
Photos Councillors Craig Browne, Susie Akers-Smith and David Jeffray try out some E-Bikes.
Tags: