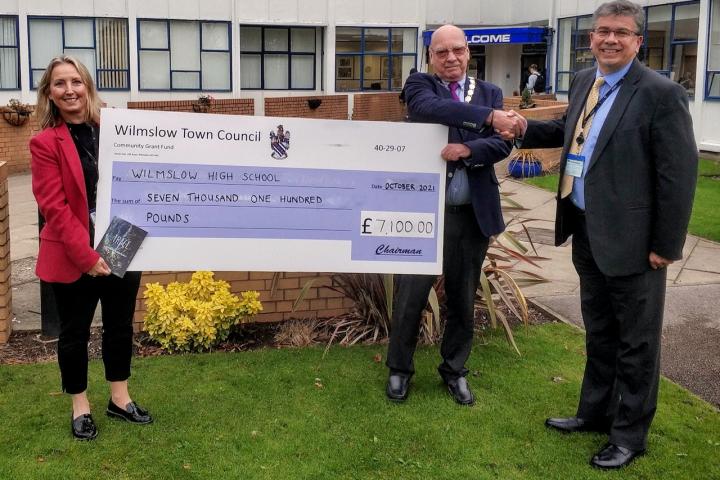 The Town Council has awarded Wilmslow High School a grant of £7,100 to fund a programme to educate, upskill and remove stigma surrounding emotional/mental health and give students strategies and confidence to self-manage situations and emotions.
The programme – called 'TRACE' (Talk, Reflect, Act, Confidence, Excel) - will be offered to current Year 7 students and students starting in Year 7 in September (currently Year 6) to support their transition into secondary education.
The grant will also fund one full day a week of Samaritan 'listening' 1:1 support to students in Years 12-13 who are referred or who self-refer, for a period of 36 weeks.
Wilmslow Town Council Chairman, Martin Watkins, said of the grant "Mental health is something that affects us all. Learning that it is okay to talk about feelings and emotions, and gaining strategies to support mental health from an early age, will not only help students to navigate through their youth but it will also equip them for adulthood. The negative impact of lockdowns on social, emotional and mental health makes Wilmslow High School's initiatives even more crucial, and Wilmslow Town Council are pleased to be able to support them."
Mark Vincent, Assistant Headteacher at Wilmslow High School, said "We are delighted that Wilmslow Town Council has agreed to fund the provision of the wellbeing self-help journal called 'TRACE' to Year 7 and 8 students. This journal has been written and produced by the youth support charity, Wilmslow Youth. Year 9 students benefitted from using the journals a few years ago, so we are thrilled to be providing our younger students with a copy after half term. The funding will also enable us to provide additional external input for post-16 students in need of emotional support – thank you Wilmslow Town Council!"
(Pictured (L-R): Rachel Guyett (Wilmslow HIgh School Partners Programme Co-ordinator), Wilmslow Town Council Chairman Martin Watkins and Wilmslow High School Headteacher James Pullé)