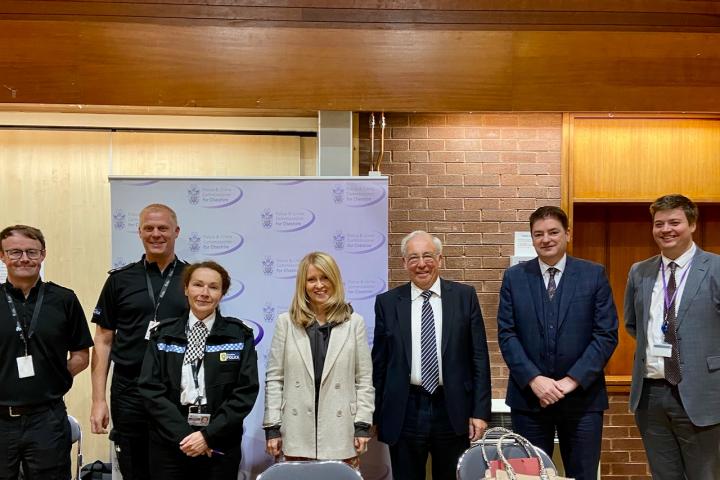 Following a public meeting held last month by the Police and Crime Commissioner, to discuss speeding and anti-social behaviour (ASB) issues on the A34 in Wilmslow and Alderley Edge, a meeting summary has been provided.
John Dwyer arranged the meeting following a large amount of correspondence from residents about the issues the community faces and was joined by around 20 local residents joined representatives from Cheshire Constabulary, Cheshire East Council and local elected representatives
Residents were asked to submit questions in advance and the panel discussed a range of issues stemming from them, including what enforcement action the police have already taken on the road, speed and noise cameras, and possible changes to the design of the road to deter the potential for collisions.
The following summary below, detailing key points discussed and actions, has subsequently been produced:
Data
In terms of the specific stretch of road in Wilmslow and Alderley Edge, over the last five years there have been:
13 injuries on Melrose Way
11 injuries on MacLean Way
10 injuries on the Handforth Bypass
8 injuries on Pendleton Way
In total there have been 44 injuries/collisions over the past four years and there are currently an average of 12 collisions per year on this stretch of the A34.
There have been three fatalities (two fatal road traffic collisions and one suicide) in the last six years between the Merlin roundabout and the Manchester border.
Of the two fatal road traffic collisions that occurred, one resulted in a drink driving conviction, the other is still under investigation.
There were two fatal collisions on Melrose Way in the same time period.
Serious collisions are classified by whether someone requires hospital treatment, even if this is just an overnight stay to monitor them.
Cheshire East Council doesn't advocate the use of Speed Indicator Devices for the widespread collection of data as they don't provide verifiable data – Wires across the road are better for this (provided by external company Traxis).
A speed assessment was carried out in October 2020 and there are plans to carry out a similar exercise on the A34 shortly.
It is difficult to get information about the number of Section 59 notices issued. In any event, very few will have been issued on the A34 as people will have been dealt with via ticket or prosecution.
What are the police doing?
The police take this matter very seriously and recognise the impact it is having on residents' quality of life and the safety of road users. Cheshire
Constabulary is committed to road safety and continuously uses social media to engage with and educate road users. Local and Road Policing Teams regularly engage in ongoing campaigns such as the 'Fatal 5' which raises awareness of the main factors that lead to collisions and 'Share the Road' which calls on road users to be kind and considerate to help keep each other safe on the roads. The Constabulary regularly runs targeted operations; on 2 September, there was a driver engagement day on the A34, Police and Fire worked together talking to drivers and giving important road safety messages. Hundreds of road users were brought in for education.
'Operation Crossbow' on 22 September was a force-wide operation that targeted criminals using our roads to commit crime and traffic offences.
There are regular watches and patrols on the A34 – Often in unmarked cars and during the evening.
The police also work closely with other agencies to identify offenders and reduce the risk to other road users.
Speed Limits
Repeater speed limit signs – Guidance is that they shouldn't be there, but would need to discuss with partners in Cheshire Road Safety Group (CRSG).
Any proposal to reduce the speed limit would have to be discussed between local partners (Cheshire East Council, emergency service, CRSG). Further speed assessments via Traxis wires would be needed on affected sections of road.
For a speed limit to be reduced, the Traxis data would have to show a mean average speed of all vehicles below or up to the limit that is proposed. This is established in Department for Transport circular 01/2013.
Right to make distinction between speeding and noise as issues – Electric cars increasingly used and are quieter but can go just as fast.
The previous Commissioner had promised funding for average speed cameras – In Cheshire East the prioritised area was Monks Heath crossroads to Melrose Way (following an assessment of nine areas). The current Commissioner had put a hold on this funding so that further assessment could be carried out and his office is making contact with the four Cheshire Councils to pick this up in early November.
Speeding fines go straight into central government funds, however the costs of a driving course go back to the police.
Speed Cameras
The Commissioner is a supporter of average speed cameras in general. However there is no such thing as a self-funding speed camera. He is committed to getting a network of average speed cameras installed across the county.
Speed vans can't get onto the A34 due to the dual carriageway therefore it is difficult to get verifiable speeding data this way.
ASB/Noise
There is a piece of equipment available to the police that will enable them to monitor noise from – Training is in progress and trials will take place to assess effectiveness. Tests will happen and results will be reported.
One issue with loud vehicles is that many of them are legal – But the police can only know if they start pulling vehicles over more regularly. This will happen and enforcement will take place where illegal modifications are identified.
420 trees will be planted along the A34 in November – Will discourage anti-social driving and aid with noise reduction.
A third beat team has been out in the area over the summer.
Noise cameras are a Department for Transport trial but police will assess effectiveness and ACC Sims in her capacity as a national lead will try to influence where she can.
People gathering to watch noisy cars in Alderley Edge can't be moved on unless they are on the highway or engaging in anti-social behaviour which can be enforced.
ACC Sims and the police will go away and look at legal advice on the police's ability to intervene where people are gathering to watch these cars. If powers can be used, the police will use them. Esther McVey is committed to this too.
Road Design and Features
Rumble strips on the A34 can and have been considered but they do cause noise issues of their own. These could be counter-productive in this case.
Road surfaces is a funding issue – Better materials that reduce noise are more costly.
There is a plan to widen the southbound roundabout approach on Alderley Road to create three lanes – This will hopefully decrease anti-social driving.
Faded road markings at the Handforth Dean roundabout will be looked at by Cheshire East Council.
In terms of roadside maintenance, the A34 is classed as a rural route and therefore is only cut once per year. Biodiversity and flora/fauna also need to be considered, but more regular maintenance could be looked at.
Changes to the Law
Regulation on exhausts is that they shouldn't be modified to be louder. Exhausts should also be maintained so they are within specified noise levels – Assessed at MOT.
Esther McVey MP will ask about the anomaly where cars are not being modified and are being maintained properly, but are above the accepted decibel limit.
Acoustic noise camera technology has to be tested in a controlled environment in order to be accurate and identify problem vehicles – Esther McVey MP will ask about progress on this too.
Highway Code has been updated with a new road hierarchy as of 14 September 2021 but is not yet in the House of Commons Library as of the date of this meeting.
Esther McVey MP will ask the question as to whether the update to the highway code will enable the police to issue more notices of intended prosecution.
Future Collaboration with Residents
The police are always open to working with communities on things like community speedwatch. Insp Andy Baker will be happy to engage with residents who feel this may be of benefit.
The Commissioner will continue to engage with affected communities and with the Constabulary to ensure that issues are being addressed. He will also look to establish better working relationships with Borough, Parish and Town Councils in relation to this issue.
Speaking after the meeting, John Dwyer said "A death or injury on our roads is one death or injury too many and I give my assurances that this matter is being taken seriously. Road traffic collisions can have devastating impacts and I am committed to taking action.
"There were a number of pertinent points raised and I know I speak for the entire panel when I say we'll consider whatever solutions are necessary and workable to improve this issue for the local community."
Tatton MP Esther McVey said: "I was pleased to be invited to attend the meeting by the PCC and it was good to see so many people in the room who I have been in contact with on this, and many other, issues.
"I also thought the main concerns were well articulated by local residents and whilst most of the issues, it was agreed, sit with Cheshire East or the police, I have taken away some points around legislation and I will be pressing the relevant Ministers on those."
Cllr Craig Browne, Deputy Leader of Cheshire East Council and Chair of the Highways and Transport Committee said: "This was an important opportunity to listen to the views of local residents and I am grateful to the Police & Crime Commissioner both for organising the meeting and inviting me as a panellist.
"Cheshire East Council will continue to work together with our strategic partners in the Cheshire Road Safety Partnership, including the police and other emergency services, to identify appropriate solutions to the issues raised. I look forward to reporting back on our joint progress at a future meeting."
Photo: Panel members at the A34 public meeting (from left to right) Insp Andy Baker, Insp Steve Griffiths, ACC Jenny Sims, Esther McVey MP, PCC John Dwyer, Cllr Craig Browne and Deputy PCC David McNeilage.