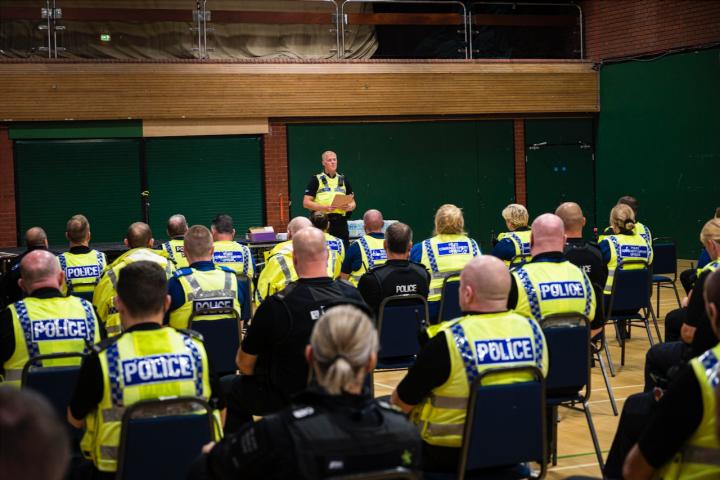 Criminals using roads in and around Cheshire have been targeted during a day of action.
Operation Crossbow, which took place on Wednesday 22 September, is part of ongoing efforts to disrupt criminal activity across the region and deny criminals the use of the roads.
It involved more than 80 officers from Cheshire Constabulary and Greater Manchester Police and took place across the border of Cheshire and Greater Manchester from Warrington through to Wilmslow.
The operation resulted in:
Cheshire officers:
• A total of 29 tickets were issued for not wearing a seatbelt, using a phone and excess speed.
• A total of five vehicles were seized for no insurance.
• A stolen vehicle was recovered.
• Two people were arrested on suspicion of drug driving and possession of drugs.
A joint effort, including a dog unit from Greater Manchester, resulted in the arrests of two men aged 31 following a fail to stop. The men, who remain in custody, were arrested on suspicion of failing to stop and other driving offences.
Greater Manchester Police officers:
• Six Traffic Offence Reports issued for use of phone, vehicle defects and window tints
• Four vehicles seized due to no insurance, driving license offences and MOT issues
• One summon to court for traffic related offences
• One vehicle seized for dangerous conditions
• Two stolen vehicles recovered
• Three arrested for drugs offences and possession of an offensive weapon - investigation remains ongoing
Inspector Steve Griffiths, who was overseeing the operation, said: "Yesterday's show of force was to highlight in no uncertain terms that we are out there 24/7 policing your roads and disrupting criminal activity. The day started with warrants in Knutsford and Northwich both with positive results and with arrests made.
"Throughout the operation we used a whole host of tactics to disrupt criminals working in our region which we use regularly as part of our everyday policing to make life difficult for those who are intent on committing crime.
"This was a great example of partnership working with another police force, and I'm sure this will have reassured the public that together we are intent on making Cheshire and Greater Manchester no go areas for criminals."
Cheshire constabulary's Chief Constable Mark Roberts said: "We're sending a strong message here that if you are travelling into or through Cheshire in order to commit a crime, then you are not welcome.
"Our officers are committed to preventing crime and will relentlessly target those suspected of wrongdoing - this day of action highlights this and our determination to make Cheshire a hostile place for criminals.
"Law-abiding citizens of Cheshire can rest assured that we will continue to target and catch those who commit crime."