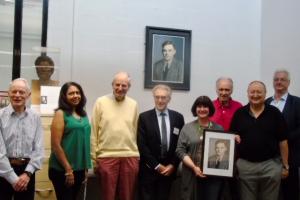 An original painting of Alan Turing, who lived in on Adlington Road in Wilmslow from 1950-54, was unveiled in Wilmslow Library in the upper floor Local Studies Room, soon to be renamed The Turing Room, on Saturday, 18th September.
Painted by local artist, Paul Webber, it was commissioned by the Turing Town Group - a partnership between Wilmslow Historical Society and Wilmslow Civic Trust who are determined to produce permanent memorials to the brilliant mathematician, famous for his work on breaking the German Enigma codes.
The unveiling was attended by Trust Committee members Christopher Dodson, Rob Sharpe and Cllr Lata Anderson and Historical Society members Susan Cooper and Sue Briggs.
David Briggs, Chair of Wilmslow Historical Society outlining the aims of the Historical Society said "I hope that this landmark occasion will be followed by further research into the town's significant residents and other local topics."
Wilmslow Civic Trust Chair, Stuart Kinsey reiterated this view remarking "I reflect with great pleasure that Turing, as Deputy Director of the Computing Lab at the University of Manchester, chose to come and live in Wilmslow."
He added "Our Trust is not only concerned with local buildings, but is anxious to promote the ambience of the community, looking to the future in all aspects, especially those concerning the environment."
The painting was unveiled by Alan Cooper of Wilmslow Historical Society saying that "I believe it captures the essence of the man and his time and I am delighted to say that Alan Turing is now deservedly recognised as a genius in many fields."
The Turing Group will be consulting the people of Wilmslow by various means, regarding how to further permanently celebrate Alan Turing. In the immediate future 13 smaller framed prints of Paul's portrait will be offered free to significant venues around Wilmslow. These will be accompanied by a short explanation of Turing's many contributions to mathematics, computing, artificial intelligence, code breaking and morphogenesis. A fuller summary of Turing's life and achievements will accompany the portrait in the Library.
Photo: from left to right Rob Sharpe, Lata Anderson, Christopher Dodson, Stuart Kinsey, Chris Wilkins, Alan Cooper, Jon Kelly, David Briggs.