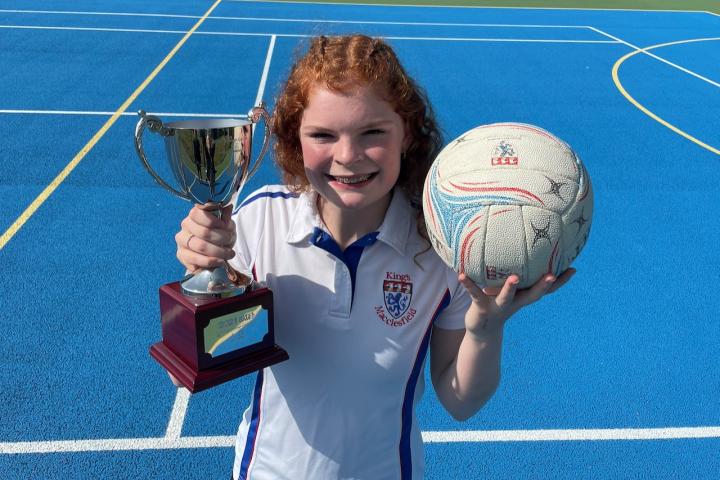 Promotional Feature
Captain fantastic Lydia Hine led Manchester Thunder U15s to win the national netball title at the School Games National Finals.
The inspirational King's School pupil and goal defence player, who has been playing netball since she was just seven-years-old, helped the Manchester Thunder pathway side beat Surrey Storm by nine goals in a hard fought final at Loughborough University.
Over 1,300 elite athletes competed across a range of different sports over a 4 day programme, with Lydia's Manchester Thunder beating Loughborough Lightning in the semi-finals, and going on to be undefeated against Severn Stars, Team Bath, Leeds Rhinos and Wasps Netball in the round robin.
Lydia has been a key member not only of a top class King's netball team, but of her club side Kingsway Power in Manchester, and is hoping to one day earn national honours.
"I just want to be as a good as I can, and keep learning and improving. To play goal defence you have to read the game well, be able to make interceptions, turnover the ball quickly, and crucially you must stick as close as you can to the opposition shooter. Like all netball positions, it has its own special set of skills," said the highly intelligent youngster.
Manchester Thunder Team Coach, Nat Kerrigan, paid tribute to her: "As Captain of the Manchester Thunder U15s, Lydia has shown outstanding leadership across the whole tournament both on and off the court, portraying great encouragement, enthusiasm and self-belief. As a leader she has nurtured an incredible team of athletes that included two late replacements due to Covid. Her determination and passion for the sport are infectious and she successfully led an undefeated team through to the final."
An excellent academic, talented grade 6 flautist, and trampolinist with the King's squad, Lydia is as yet undecided about her future: "I just want to enjoy everything I do and see where it takes me," she said sensibly.
Photo: Lydia with the National School Games Cup.
Tags: