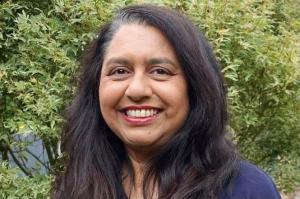 The candidates for the vacancy on Chehsire East Council, representing the Dean Row Ward, for next month's election have been announced.
Residents in the Dean Row Ward will have the choice of four candidates when they go to the polls on on Thursday, 2nd September.
The candidates standing are:
Lata Anderson - Residents of Wilmslow
James Booth - Green Party
Birgitta Hoffmann - Liberal Democrat
Frank McCarthy - Conservative Party
I will published brief interviews with each of the candidates, in the order in which I received a response to my request.
Lata Anderson - Residents of Wilmslow
Please tell me about yourself - occupation, how long you have lived in Wilmslow, interests, family?
Wilmslow has been a great place to bring up our son and after 24 years I cannot imagine living anywhere else. I live on Summerfields in the heart of Dean Row ward and love being able to see the hills of the Peak District, especially before dusk when the sun is shining off the hills.
I have a senior role in a well-known bank, working in IT. I enjoy walking, have recently taken up cycling, love outdoor theatre and listening to live music.
Are you a member of any local groups or societies?
I already sit on Wilmslow Town Council and I am on the Community & Order and the Finance Committees.
I am helping organise Wilmslow's Festival of Nature with groups including Transition Wilmslow, Civic Trust, Cycle Wilmslow and many more. Additionally, I am involved with the Wilmslow Community Market Garden.
I am also an active member of the Wilmslow Civic Trust.
Why have you decided to stand for election as a county councillor?
Having been on the town council since May 2019, I realise that Cheshire East governs the more important parts of our lives. Therefore, I want to improve these bigger issues for the residents of Dean Row by using my strong listening skills with my determination to get things done.
Toni Fox did a great job for Dean Row as an independent for Residents of Wilmslow. She has been very supportive and believes I can live up to her high standards.
What do you consider to be the important issues facing Wilmslow?
In Wilmslow there are the three P's: parking, potholes and planning. Recently, there is a 4th P though: Pandemic recovery.
Within Dean Row there are also issues of building on green belt space and more recently, over development where single houses are being replaced with multiple ones. Excessive noise from the A34 is also an issue, especially in the summer months.
What do you hope to achieve and how in the next two years?
Initially, I will have 2 years to prove to the residents in Dean Row that I have continued the great work of their previous councillor, Toni Fox of RoW. This means helping them with their issues such as planning, blocked gullies and overgrown hedges. It will also mean resisting inappropriate planning and helping ensure the town centre develops into a thriving place to shop, eat and work. I will challenge the Central Government cuts to the road maintenance budget.
In the very short term, my focus is to ensure when the Tour of Britain rides through the centre of Dean Row, we are able to utilise the event to bring benefits to the ward.
What experience and personal qualities will you bring to the role?
My different roles in IT have required different skills. When fixing computers, I learnt patience and how to learn quickly. As an analyst, I interpreted data to drive improvements and then as a senior manager, I delivered large, global systems within agreed timescales, budgets and customer expectations.
I have also delivered on the Town Council too. Helping our town centre businesses recover from the lockdown, leading the Councils thank you to our 'Wilmslow Stars' of the pandemic and by formally improving how the Council communicates what we do.
Why should Wilmslow residents vote for you?
I believe the heritage and beauty of Wilmslow should be cherished and protected. This means building new homes that our children can afford but without destroying our wonderful green belt.
To do this, we need to repurpose existing buildings and sites. I am pleased to hear Cheshire East is now turning disused and derelict council buildings into affordable housing for rent or shared ownership. It is the first time in a decade that they are taking an active part in social housing, so I want to help Wilmslow benefit from this new policy too.
Additionally, I am the only independent candidate with no national agenda or political dogma to follow. My only concern is "What is best for Wilmslow?", and as an independent, I am never told how to vote on CEC matters, so I can really deliver on this promise.
On a personal basis, my time as a Wilmslow Town Councillor has shown that I deliver results and that progress can be made without it taking years to achieve.
Finally, whenever anyone has asked me for help, I have always engaged with them to find a solution, even if it is outside my immediate control. Everyone is always welcome to contact me and share their views on how they would like to see Wilmslow develop.