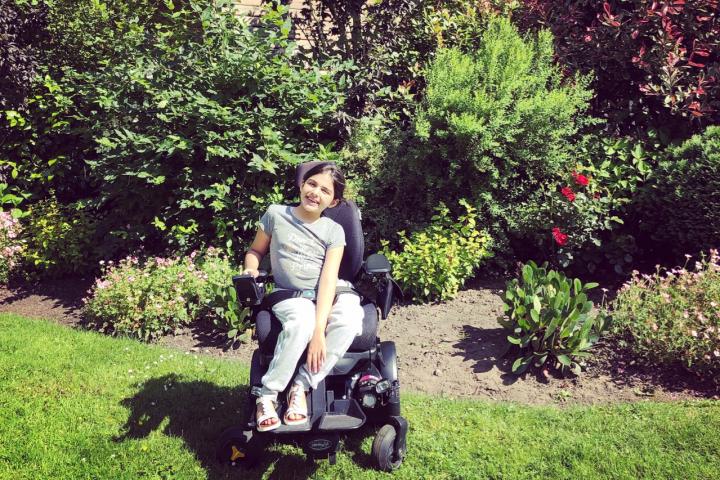 The family of a Wilmslow girl living with a rare debilitating condition are struggling to arrange for an electric wheelchair accessible taxi.
Fifi Basma, 10, has Type III Spinal Muscular Atrophy (SMA) which has left her with muscle weakness and progressive issues with her mobility.
She recently received the fantastic news that she is now eligible for Spinraza treatment and will start treatment next week, after the Court of Appeal handed down a judgment ruling in March 2021 that she should be reconsidered the life-changing drug.
However, her mother Sara says her experience with arranging for an electric wheelchair accessible taxi for Fifi has been a nightmare.
Sara told wilmslow.co.uk "Although there is a list of wheelchair accessible companies in Cheshire, when you telephone them most of them have excuses why they do not actually have an electric wheelchair accessible car! There are only two companies on the list who have an electric wheelchair accessible taxi and who are willing to come to Wilmslow."
"One of them charges £75 to and from the airport, which is about 15 minutes from my home (a trip that would normally cost me £32-40 there and back for a non accessible taxi, van or mini bus). He charges £60 to and from the train station which is only 5 minutes from my home (a trip that would cost £6-10 there and back in a non accessible taxi or van or mini bus).
"The second company are more expensive! They know that they can charge these extortionate amounts because there is no one else available!
"I would need to prebook them both well in advance. However, if I ever needed to go somewhere with Fifi at short notice it would not be possible."
Sara added "I just think that in this day and age in a place like Wilmslow there really should be much better access to electric wheelchair accessible taxis. In Tenerife you can order a wheelchair accessible taxi in 5 mins. They are everywhere. You do not even need to preorder them as they are as available as non accessible taxis.
"I would like to think that Wilmslow and the surrounding areas can be like that one day. I'm sure there are lots of disabled and old people who suffer because of this problem."