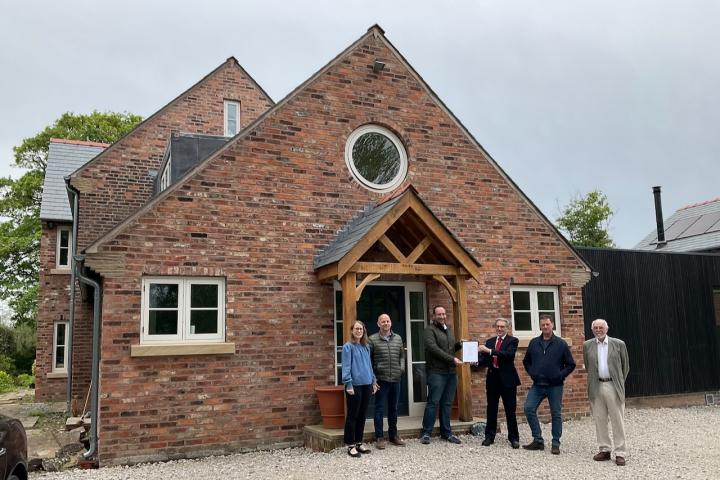 Earlier this year Wilmslow Trust invited residents to nominate buildings in Wilmslow which were new or had been altered in 2019 or 2020 which they considered to be well designed.
As a result a number of nominations for building projects were received from members of the public and Wilmslow Trust. These were reviewed by a panel consisting of two retired architects who are members of the Trust, one recently retired independent architect, the former Chairman of the Trust and local historian, Ray Acton.
The panel decided that certificates should be presented certificates commending the design of Bower's Folly on Greaves Road (pictured above) and the The Old Stables in Wilmslow Leisure Centre care park.
Stuart Kinsey, Chairman of Wilmslow Civic Trust said "Bower's Folly was commended as it sets a good example for individual residential building renovation and extension of an existing house and outbuildings. The contemporary style of the new building complements the carefully restored original structures.
"The scheme is well proportioned, sitting comfortably within its rural context. The materials used are high quality without being ostentatious. Sustainability has been considered, incorporating such features as photovoltaic panels on the roof and a heat pump rather than conventional domestic heating. A redevelopment well worthy of the commendation."
Mr Kinsey added "The Old Stables on Alderley Road is commended for the conversion of the former Old Rectory stables into a smart and functional office building. The conversion has been well executed with much of the original single storey structure retained.
"The brickwork has been re-pointed and the roof re-slated. New doors provide easy access and windows of contemporary design allow good levels of light to the interior. Internal refurbishment has created an attractive reception area using the original stone flag floor re laid on a modern sub floor and an impressive wood panelled meeting room together with generous office space.
"This refurbishment makes a positive contribution to the local scene and has reasonably good sustainability credentials by virtue of the way in which an existing structure has been ingeniously re-utilised."
The Trust also commended Steven and June Bailey for their concept to redevelop 31 to 37 Ladyfield Street, formerly a factory building at the end of a terrace of houses. The old factory has been converted into three new homes along with the adjacent house in the terrace, creating four new houses in total.
Stuart Kinsey said "The development is a well- conceived piece of work and fully maximises the space available, sitting comfortably within its characterful neighbourhood and is well built."
Tags: