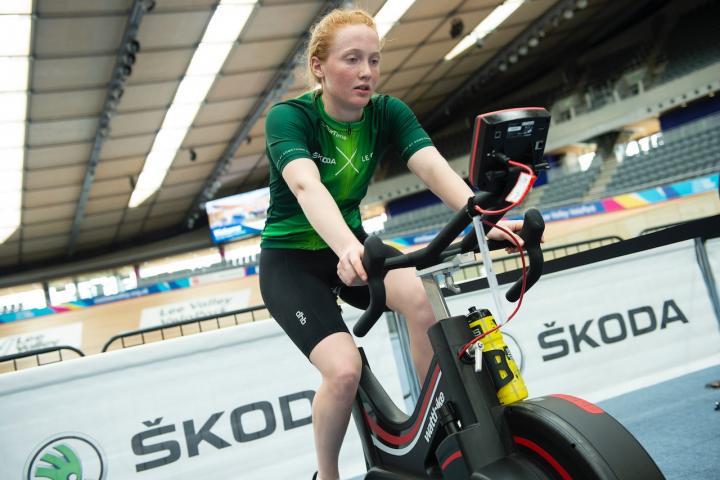 A 20-year-old cyclist from Wilmslow has been selected from more than 100 riders to be part of the prestigious ŠKODA Driver's Seat Initiative (DSI) Cycling Academy.
Olivia French, who is in her second year at Durham University studying mathematics, will join Academy Principal, Dame Sarah Storey and complete the university-style programme that aims to provide ambitious female cyclists, aged between 17-22, with a route to the elite level of the sport.
A promising tennis player, previously competing at national level and in international tournaments, French only took up cycling during the first lockdown when the tennis courts closed, and she needed to find a new sporting focus.
Olivia said "I'm so pleased to have been selected for the ŠKODA Cycling Academy. I was not expecting it at all and to be honest it hasn't quite sunk in yet! I'm looking forward to meeting the other riders, learning from Dame Sarah Storey and seeing how far I can progress in cycling."
Olivia, who studied for her A Levels at Wilmslow High School, added: "I have played tennis since I was nine years old and played in a number of international tournaments. When the tennis courts closed during lockdown I was encouraged to get out on my bike with my dad who was happy we found something that we could do together. I would normally be playing tennis tournaments all summer but last year my focus switched to cycling and I loved it. I will keep my hand in with tennis, playing for the university first team, but cycling has become my number one sporting passion."
More than 100 aspiring female amateur riders applied to join the Academy by providing details of their cycling experience, ambitions, and training schedule. A total of 17 riders were then shortlisted to attend the second stage of the selection process, a testing day at the Lee Valley VeloPark in London.
Olivia was put through her paces in a series of cycling tests that included a peak power test, a three-minute maximal test and a 12-minute steady state challenge. She then completed laps of the outdoor closed circuit to test her physical handling and pacing abilities.
Dame Sarah Storey, Academy Principal and Team GB's most successful Paralympian, commented: "As a tennis player it was clear that Olivia has an incredible self-discipline and drive for fitness tests and her ability on the Wattbike was incredible for someone who took up cycling last year. I was impressed with how keen she was to understand more about what she could do better and it was clear from her application form she is a very driven and focused individual who works methodically with her coaches and support network."
The Academy programme will provide Olivia with the opportunity to experience the life of a professional rider, covering the performance, nutrition and media profile required to be a modern-day pro cyclist. The 2021 schedule also offers the chance to race in the Women's National Road and Circuit Series and attend ŠKODA sponsored events, which include the Women's Tour and the Tour Series.