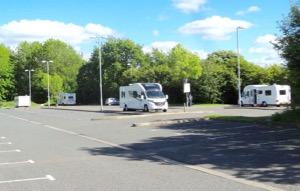 Some travellers who arrived in the town at the beginning of the month remain at their illegal encampment in a town centre car park.
A group of approximately five caravans arrived on Monday, 2nd February, and parked up in the Broadway Meadow car park.
At the time a spokesperson for Cheshire East Council said "One of our officers visited the unauthorised encampment at Broadway Meadow car park on Monday.
"He spoke with the group, who have committed to leave the location by Friday 5 February at the latest."
However, a week later the group of travellers remain at the site so today (Friday, 12th February) a spokesperson for Cheshire East Council told wilmslow.co.uk
"We are taking legal action and seeking a court date."