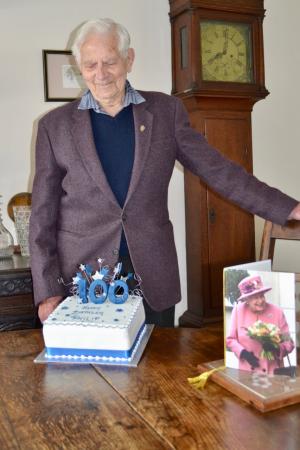 In 1923, as a young widow, Hilda Briggs returned to her hometown, Wilmslow, to be housekeeper to her elderly parents living on Water Lane. With her came her two year old son, Philip.
Last week, Philip, who still lives in Wilmslow, celebrated his 100th birthday.
Philip started his education at Wilmslow Preparatory School on Grove Avenue, moved on to The Ryley's in Alderley Edge and then attended Christ's Hospital Blue Coat School in Sussex.
Leaving school just before reaching 16 he became one of the youngest students ever at University of Manchester Institute of Science and Technology and then started his career as an electrical engineer with Ferranti.
During World War 11 Philip joined REME, the army engineers, and served as an officer in North Africa and in Italy where he lead a specialist electro-mechanical workshop stationed on the side of Mount Vesuvius. After the war he returned to Wilmslow and in 1949 married Barbara – a Wilmslow girl born and bred.
In his forties Philip established his own manufacturing business, obtained a PhD in Electro-Mechanical Engineering and went on to run his own specialist consultancy.
Dr Briggs also served in several public roles. In the 1960's he was a Wilmslow Urban District Councillor and Chairman of Governors at Wilmslow Secondary Modern (The Hough) and later he taught at Wilmslow High School.
His son David said "My dad has never really retired, and takes an exercise walk around different parts of Wilmslow most days. He has a reputation for "fixing things". And still occupies himself daily in his workshop/laboratory – and recently joined in enthusiastically with the Repair Café initiative led by Transition Wilmslow."
Philip's 100th birthday was celebrated over the internet with his three sons and their families including one great grandson and a few close friends. All have promised that the event will be properly marked with a big party as soon as the quarantine rules are lifted.