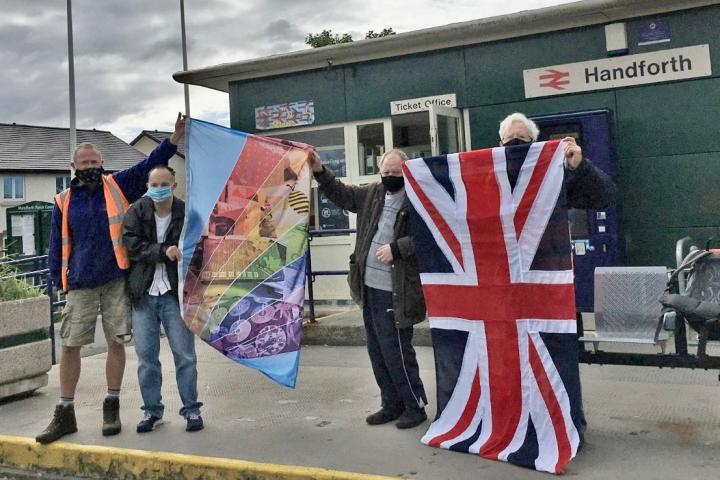 The Friends of Handforth Station (FoHS) were delighted to cement yet another partnership with a local community group, when they raised a new flag following a brief hand-over ceremony at the station.
Time Out Group (TOG) is a registered charity based in Handforth that provides a range of activities and support for adults aged 18+ with learning disabilities. Their vision is that adults with learning disabilities are accepted as equals within their own communities and have the opportunity to take part in social and leisure activities without discrimination.
The COVID-19 pandemic forced TOG to temporarily close their drop-in centre (in The Paddock, Handforth) in March and the raising of the TOG flag coincided with the reopening of their drop-in centre.
Anne-Louise Back from TOG said "Our members were delighted to work with FoHS during lockdown to design the flag, and we are proud to see it flying at the station. This kind of project helps us to tackle isolation in the community and to encourage independence for adults with learning disabilities through support, fun and friendship."
Jenny Barnes, Arts Cordinator for FoHS, said "We are pleased with our partnership with TOG, and are happy to support TOG as they work throughout the COVID-19 pandemic. Their new flag is now flying alongside our brand-new Union Jack to bring some life and colour to the station."