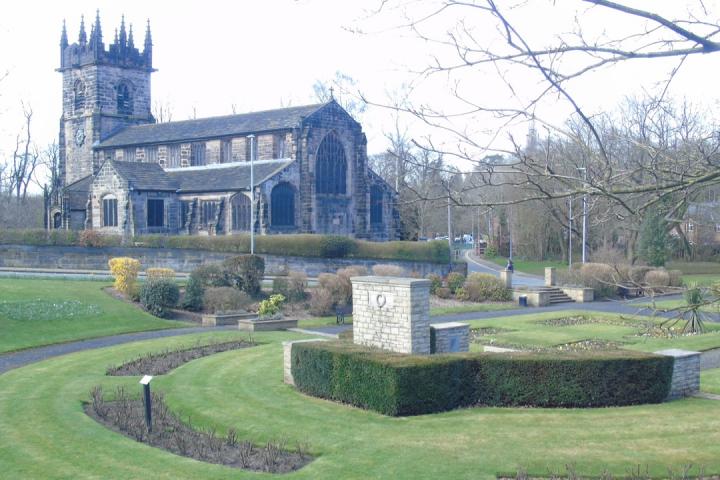 History has come again in Wilmslow. As part of 2020 English Heritage's National Heritage Week, Wilmslow Historical Society repeated its very popular free walking tours of the Town Centre.
Alan Cooper, Chairman of Wilmslow Historical Society says "Heritage Open Days are England's celebration of local history and heritage. It's a once-a-year chance to uncover and discover hidden treasures and rarely told stories. We decided despite the current difficulties that it was very important to give people the chance to come on our tours providing they felt comfortable to do so. I am pleased to report the tours were again full and the feedback from guests has been so very positive. Sorry to everyone we had to disappoint particularly after we had to reduce the numbers further when "the rule of six" was brought in. Thank you to all those who showed an interest."
Tour leader Town Cllr Jon Kelly says "Many thanks too to David Briggs and Corey Hughes as first time fellow guides, they were really excellent.
English Nature had given us the theme of Hidden Nature this year. For Wilmslow this allowed us to highlight not only Lindow Pete but also bring things up to date with the end of peat cutting on the moss, the promise of the restoration of the bog and its great value for nature and carbon capture.
We covered too Alan Turing's pioneering Wilmslow work on the mathematical basis of spots and stripes in biological form which we think will prove revolutionary for the bio-industries of the future. While here he was Deputy Director of Manchester University's Computer Lab and devised the Turing Test, the pioneering work on artificial intelligence. Our tour guests felt strongly we should mark and celebrate his life and work here in some significant way which I think would be a real asset for the town and help promote it.
We were very encouraged by the great response again from people who came on the tours. People had so many great family stories of their own to tell. We are looking to include these in future tours which we hope to run starting later this autumn."
Just for information, the Society has had to postpone its usual monthly lectures at the United Reformed Church until further notice. However, we are hoping to pilot a series of short Zoom Lectures on local topics. These are: the Highfield Estate, the Coming of the Railways to Wilmslow, Thomas Tonge of Styal and Anglo Saxon Wilmslow and its Environs. Further details will be published as these become known.
Alan Cooper
Chairman
[email protected]